Billy, Alfred, and General Motors
: The Story of Two Unique Men, A Legendary Company, and a Remarkable Time in American History
William Pelfrey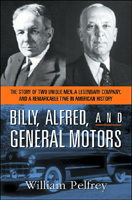 Format:
Hardcover, 313pp.
ISBN:
9780814408698
Publisher:
AMACOM
Pub. Date:
February 27, 2006
Average Customer Review:

For Bulk Orders Call: 626-441-2024

Description and Reviews
From
The Publisher:
One industry has had more impact on life in America than any other before or since. Here is the story of two men and one company at the start of it all.
You couldn't find two more different men. Billy Durant was the consummate salesman, a brilliant wheeler-dealer with grand plans, unflappable energy, and a fondness for the high life. Alfred Sloan was the intellectual, an expert in business strategy and management, master of all things organizational. Together, this odd couple built perhaps the most successful enterprise in U.S. history, General Motors, and with it an industry that has come to define modern life throughout the world. Their story is full of timeless lessons, cautionary tales, and inspiration for business leaders and history buffs alike.
Billy, Alfred, and General Motors
is the tale not just of the two extraordinary men of its title but also of the formative decades of twentieth-century America, through two world wars and sea changes in business, industry, politics, and culture. The book includes vivid, warts-and-all portraits of the legends of the golden age of the automobile, from "Crazy" Henry Ford, Ransom Olds, and Charles Nash to the brilliant but uncredited David Dunbar Buick and Cadillac founder Henry Leland.
The impact of Durant and Sloan on their contemporaries and their industry is matched only by the powerful legacy of their improbable and incredible partnership. Characters, events, and context—all are brought skillfully and passionately to life in this meticulously researched and supremely readable book.

Reviews
"This book is particularly timely, with the auto industry in a period of extreme turbulence that features a restructuring of General Motors, as well as other icons of times gone by. In a sense, we may be reliving in the 21st century the auto drama of the 20th century portrayed so well by Bill Pelfrey. The author's outstanding writing and research skills are evident throughout and make this one of the most important and fascinating books I've read in a very long time."
—David E. Cole, Chairman of the Center for Automotive Research
"Every person who is interested in the building of the American automobile industry must read this book. Bill Pelfrey has done a great job researching the early years of Billy Durant and Alfred Sloan and the very different roles they played in the history of General Motors."
—Jack Smith, retired Chairman and CEO, General Motors Corporation
"Anyone interested in the current story of General Motors should read this engrossing description of the beginnings and early growth of this largest of all America's businesses. Billy, Alfred, and the General is an important work on the history of the automobile industry."
—John G. Smale, retired Chairman and CEO, Procter and Gamble Company; former Chairman, General Motors Corporation
"The challenges faced by Durant, Sloan, and others in the automotive industry 100 years ago are as relevant as ever today: managing through varying leadership styles; ensuring the ability to adapt to a changing business environment; maintaining cash flow during downturns. This book highlights both their successes and failures, and it should be read by managers everywhere."
—Ira M. Millstein, Senior Partner, Weil, Gotshal and Manges; Visiting Professor in Competitive Enterprise and Strategy, Yale School of Management; Special Adviser to the World Bank on Corporate Governance
"To understand where General Motors is going, you must first understand where it has been. The who and why of it all is beautifully described, anecdote by anecdote, by Pelfrey in this fascinating read. Magnificently researched."
—Gerald C. Meyers, Professor of Management, University of Michigan (Ross) Business School; former Chairman and CEO, American Motors Corporation

About the Author
William Pelfrey
(Beverly Hills, MI) spent 15 years at General Motors Corp., most recently as Director of Executive Communications. A former journalist, he reported from Vietnam, Appalachia, and Pakistan for
The New York Times, Atlantic Monthly
, and
The New Republic
. His first book,
The Big V
, was nominated for the National Book Award and won him a National Endowment for the Arts fellowship.

Find Items On Similar Subjects

My Years with General Motors