Leading Leaders
: How to Manage Smart, Talented, Rich, And Powerful People
Jeswald W. Salacuse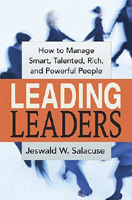 Format:
Paperback, 240pp.
ISBN:
9780814417669
Publisher:
AMACOM
Pub. Date:
November 3, 2005
Average Customer Review:

For Bulk Orders Call: 626-441-2024

Description and Reviews
From
The Publisher:
The most valuable people in and around an organization are often the most difficult to manage. They are the "elites" -- executives, highly educated professionals, investors, board members, experts in critical functions, and others -- whose special talents or positions give them unusual power and independence from those who seek to lead them. These influential individuals are not motivated by visionary speeches, by teambuilding sessions, or by a need to prove themselves (or keep their jobs). They are important assets to the company -- but only when their strengths can be harnessed and aligned with organizational goals.
Leading Leaders
shows the reader how to develop one-on-one, up-close-and-personal relationships with these movers and shakers, and how to leverage their expertise for better decision making. Rather than top-down processes that might apply in a typical leadership hierarchy, the book establishes processes that resonate with these very special "followers," including negotiation, strategic planning, brainstorming, and more.
Whether you were born a leader or have had leadership thrust upon you, you're in for a whole new set of challenges when managing other leaders. Think of the qualities that have brought you to a leadership role: your vision, confidence, and charisma, or perhaps your experience, unique skills, expertise, or network of powerful allies. Now remind yourself that other leaders share some or all of these qualities with you.
The leaders you are called upon to lead may be other executives, highly educated experts, investors, board members, government officials, doctors, lawyers, or other professionals. The potential contributions of these elites to any organization are vital, but the likelihood of friction is also high if you don't manage relationships carefully. In any case, they are people with significant resources—and strong opinions. How do you leverage the assets of the talented and powerful while making sure that egos remain unbruised?
Leading Leaders breaks the challenge down into the Seven Daily Tasks of Leadership, and shows you how to carry out each task when you have to manage other leaders. The seven tasks and the special challenges they entail in leading leaders are:
Direction How do you negotiate a vision for the organization that other leaders will buy into?
Integration How do you make stars a team?
Mediation How do you resolve conflicts over turf and power among other leaders so the organization can move forward?
Education How do you educate people who think they are already educated?
Motivation How do you move other leaders who already seem "to have everything" to do the right thing for the organization?
Representation How do you lead your organization's outside constituents while still leading leaders inside?
Trust Creation How do you gain and keep other leaders' trust, the vital capital that your own leadership depends on?
Drawing on the author's own leadership experience as well as his research in the corporate, political, academic, and professional worlds, Leading Leaders answers these questions with a clear set of effective rules for all managers to follow in successfully leading other leaders.

Reviews
"Perhaps no more important challenge faces leaders today than how to lead in horizontal organizations where they cannot just give orders but must rely principally on persuasion and negotiation. In this wise, practical, and lucid book, Jeswald Salacuse advises us on how to succeed in this new world. I recommend it!"
—William Ury, Harvard University; coauthor of Getting to Yes; author of The Third
"The real trick to leading a university, business, or country is figuring out how to lead other leaders. Being able to sell other leaders on your policies and yourself is almost always the basis of success or failure in human enterprises. Professor Salacuse, who knows what he's writing about in this area, hits the nail on the head."
—Leslie H. Gelb, president emeritus of the Council on Foreign Relations, and former New York Times columnist.
"Jeswald Salacuse has made a significant contribution to the study of leadership with this practical and accessible book. Leaders of many types of organizations—business, government, multilateral,and the academia—will find his systematic approach enlightening and, most important, useful."
—William J. Rainer, Former Chairman, Commodity Futures Trading Commission, and Cofounder, Greenwich Capital Markets, Inc.
"Great stuff, full of revelations on making a team out of the star players in any outfit, and leading it on to victory."
—John Galvin, General U.S. Army, retired; former Supreme Allied Commander, NATO
"Leading exceptional talent requires insight, ability—and Jes Salacuse's latest book, Leading Leaders. This wonderfully organized and clearly written work provides a leadership model that sets forth a series of imperatives to increase the effectiveness of a leader—useful for a high school teacher and a corporate CEO. The leadership paradigm suggested in the book seems so basic, yet when put in context, provides tactical solutions to real-world challenges."
—Alan Rappaport, President, Family Wealth Advisors, Bank of America

About the Author
Jeswald W. Salacuse
is Henry J. Braker Professor of Law at The Fletcher School of Law and Diplomacy, Tufts University. Formerly Dean of the Fletcher School and of the Southern Methodist University School of Law, he has practiced law with a Wall Street firm, directed a research institute in the Congo, been president of professional organizations, and served as a Ford Foundation executive in the Middle East and Africa. He has been a consultant to multinational corporations, universities, law firms, and international organizations. Salacuse is a member of the Steering Committee of the Program on Negotiation at Harvard, a member of the Council on Foreign Relations, president of an international arbitration tribunal, and an independent director of several mutual funds listed on the New York Stock Exchange.

Table of Contents
| | | |
| --- | --- | --- |
| | Preface | xi |
| 1 | Leaders as Followers | 1 |
| 2 | Leading One-on-One | 19 |
| 3 | The Art of Strategic Leadership Conversation | 35 |
| 4 | The Seven Daily Tasks of Leadership | 59 |
| 5 | Task No. 1: Direction - Negotiating the Vision | 67 |
| 6 | Task No. 2: Integration - Making Stars a Team | 91 |
| 7 | Task No. 3: Mediation - Settling Leadership Conflicts | 111 |
| 8 | Task No. 4: Education - Teaching the Educated | 131 |
| 9 | Task No. 5: Motivation - Moving Other Leaders | 151 |
| 10 | Task No. 6: Representation - Leading Outside the Organization | 169 |
| 11 | Task No. 7: Trust Creation Capitalizing Your Leadership | 191 |
| | Index | 211 |

Find Items On Similar Subjects

Good to Great
: Why Some Companies Make the Leap... And Others Don't