Moral Leadership
: The Theory and Practice of Power, Judgement and Policy
Deborah L. Rhode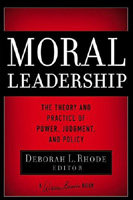 Format:
Hardcover, 416pp.
ISBN:
9780787982829
Publisher:
Jossey-Bass
Pub. Date:
June 12, 2006
Average Customer Review:

For Bulk Orders Call: 626-441-2024

Description and Reviews
From
The Publisher:
The Enron scandal . . . lobbyists bribing members of Congress . . . the torture of prisoners at Abu Ghraib—the news is filled with stories about the lack of ethics in our most high-placed leaders.
Moral Leadership
brings together in one comprehensive volume essays from leading scholars in law, leadership, psychology, political science, and ethics to provide practical, theoretical, and policy guidance. The authors explore key questions about moral leadership: How do leaders form, sustain, and transmit moral commitments? Under what conditions are those processes most effective? What is the impact of ethics officers, codes, training programs, and similar initiatives? How do standards and practices vary across context and culture? What can we do at the individual, organizational, and societal level to foster moral leadership?
Throughout the book, the contributors identify what people know, and only think they know, about the role of ethics in key decision-making positions. The essays focus on issues such as the definition and importance of moral leadership and the factors that influence its exercise, along with practical strategies for promoting ethical behavior. Moral Leadership addresses the?dynamics of moral leadership, with particular emphasis on major obstacles that stand in its way:?impaired judgment, self-interest, and power.? Finally, the book explores moral leadership in a variety of contexts—business and the professions, nonprofit organizations, and the international arena.
As recent scandals make clear, society has a fundamental interest in strengthening the ethical capacities and commitments of its leaders.

Reviews
"The role of ethics in the conduct of business, the professions, and politics is very properly receiving increased attention in a world characterized by relations among distant and disparate agents. This pushes to the forefront the moral obligations of leaders.? This book draws together the leading analysts of moral leadership, and the many aspects of moral leadership are synthesized in a masterful introduction by the editor."
—Kenneth J. Arrow, Joan Kenney Professor of Economics and professor of operations research, Stanford University; winner of the Nobel Prize in Economics
"Deborah Rhode and colleagues take aim at the vacuous platitudes that pass for moral insight in much of today's writing on leadership. Anyone with a serious interest in moral leadership will appreciate this headlong dive into its complexities and challenges."
—Lynn Sharp Paine, John G. McLean Professor of Business Administration, Harvard Business School; author, Value Shift
"I am struck by the ability of this collection to tell us?about aspects of human behavior that are surprises to most?of us and aid our understanding of moral leadership."
—Max H. Bazerman, Straus Professor, Harvard Business School; author, Predictable Surprises and Judgments in Managerial Decision Making
"An unusually sophisticated and informative analysis of the?formidable challenge of promoting ethical leadership in organizations. It deserves to be widely read by both those who teach and study ethics, and those who aspire to lead?and create more responsible organizations."
—David Vogel, Solomon L. Lee Distinguished Professor of Business Ethics, Haas School of Business, University of California, Berkeley; author, The Market for Virtue

About the Author
Deborah L. Rhode
is the Ernest W. McFarland Professor of Law and director of the Stanford Center on Ethics. She is the former director of the Keck Center on Legal Ethics and the Legal Profession at Stanford University School of Law, the former chair of the American Bar Association's Commission on Women in the Profession, and the former president of the Association of American Law Schools.

Find Items On Similar Subjects

The Ethical Challenge
: How to Build Honest Business Leaders