Building Character
: Strengthening the Heart of Good Leadership
Gene Klann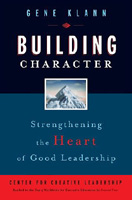 Format:
Hardcover, 224pp.
ISBN:
9780787981518
Publisher:
Jossey-Bass
Pub. Date:
December 5, 2006
Average Customer Review:

For Bulk Orders Call: 626-441-2024

Description and Reviews
From
The Publisher:
Shocking tales of personal greed, displays of unmasked hubris, and flagrant abuses of power . . . the media is filled with stories about leaders who are undone by their failure of character. These increasingly frequent demonstrations of character failure cut across all sectors of our society—corporations, sports, the entertainment industry, politics, religion, and nonprofit organizations.
Building Character
is written for leaders who understand their responsibility to develop authentic leaders within their organizations. Without presenting an overarching moral code or a prescriptive code of behavior, this book offers leaders and managers a practical model complete with the tools, information, and processes to develop character in leaders at all levels. The author explains the role character plays in leadership success and effectiveness and outlines how character can be developed through the Five E's—Example, Education, Experience, Evaluation, and Environment.
Building Character
is a dynamic guide that will help any organization develop leaders using a process that is based on good fundamentals, best practices, and common sense.

Reviews
"There is no shortcut to building leadership character! However, Gene Klann's book Building Character is excellent at organizing one's behaviors and creating awareness of the best practices to achieve your desired character outcome."
—Keith A. Holliday, vice president, First Citizens Bank
"Klann correctly identifies the learning process for leaders and the necessary tools of leaders in all walks of life. If you want a practical model for leaders and leadership training, read this book!"
—Major General William F. Burns, U.S. Army (Retired);Distinguished Fellow, U.S. Army War College
"One only has to know Gene Klann for a short time to understand how deeply he cares about the positive effects of leadership qualities like character and integrity. When Gene speaks on these topics, I make the time to listen."
—Michael Kleist, vice president of information engineering, WSI
"Klann's astute insight into human behavior has been honed through years of real-life experience, from leading our military troops in the front lines to mediating in the corporate board room. His insights are invaluable."
—Charles Lange, president and CEO, CIGNYS
"Leadership successes, or failures, are the result of moral and ethical choices...the choices of character. All who lead—or want to lead—should open this book and dig in."
—General Hal M. Hornburg, U.S. Air Force (Retired); partner, Strategic Message Solutions
"Klann courageously confronts key challenges to personal integrity in this politically correct world of the new century with a book that should be read by any individual who wishes to be considered a leader."
—Lt. Col. Michael J. Barry, U.S. Army (Retired)

About the Author
Gene Klann
is a senior member of the training faculty at the Center for Creative Leadership (CCL) in Greensboro, North Carolina. Prior to joining CCL, he was founder and president of Leadership International, an organization specializing in human relations, training, coaching, and management consulting.

Table of Contents
| | | |
| --- | --- | --- |
| | Preface | vii |
| | Acknowledgments | ix |
| | About the Author | xi |
| | | |
| 1 | Character and Leadership | 1 |
| 2 | Five Influential Attributes | 21 |
| 3 | Example | 49 |
| 4 | Experience | 65 |
| 5 | Education | 89 |
| 6 | Environment | 111 |
| 7 | Evaluation | 127 |
| 8 | Next Steps | 151 |
| | | |
| | Appendix A: Personal Values | 163 |
| | Appendix B: Assessing Leadership Character | 167 |
| | Appendix C: A Checklist of Good Leader Behaviors | 169 |
| | Appendix D: Leadership Character Scenarios | 183 |
| | Appendix E: Integrated Plan for Developing Leadership Character | 189 |
| | | |
| | References and Suggested Readings | 193 |
| | Index | 202 |
| | About the Center for Creative Leadership | 209 |

Find Items On Similar Subjects

Character Is Destiny
: The Value of Personal Ethics in Everyday Life