Leadership Agility
: Five Levels of Mastery for Anticipating and Initiating Change
William B. Joiner and Stephen A. Josephs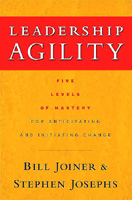 Format:
Hardcover, 336pp.
ISBN:
9780787979133
Publisher:
Jossey-Bass
Pub. Date:
October 20, 2006
Average Customer Review:


For Bulk Orders Call: 626-441-2024

Description and Reviews
From
The Publisher:
Leadership agility is the master competency needed for sustained success in today's complex, fast-paced business environment. Richly illustrated with stories based on original research and decades of work with clients, this groundbreaking book identifies five levels that leaders move through in developing their agility. Significantly, only 10 percent have mastered the level of agility needed for consistent effectiveness in the turbulent era of global competition.
Written in an engaging, down-to-earth style, Leadership Agility is your personal guide to leadership agility in action. After describing and illustrating the four competencies of agile leaders, Bill Joiner and Stephen Josephs use real-life stories and examples to provide a clear road map that shows you how to bring these competencies to new levels. Reading this book will confirm your best instincts and introduce you to new forms of leadership currently practiced by only a small percentage of highly agile leaders.

Reviews
"Leadership Agility is a unique and extraordinarily important contribution to our understanding of what it takes to lead in a world of rapid change and increasing complexity. They show us with vivid real-life examples how leaders grow, that this growth is essential to achieving higher levels of success, and that agility is the new master skill of leadership. I highly recommend this book."
—Jim Kouzes, coauthor of the best-selling book, The Leadership Challenge
"Great coaching on how to develop leadership agility! Probably the most important competency for leaders to have in today's rapidly changing world."
—Marshall Goldsmith, author, , and The Leader of the Future
"In an era of turmoil and complexity,
Leadership Agility
is a breakthrough in thinking about leadership competencies. Joiner and Josephs have achieved a creative synthesis of best practices in strategic thinking, emotional intelligence, problem-solving, and action learning. Profusely illustrated with clear examples from real-life leaders, this groundbreaking book will be welcomed by both the line leader and the leadership development professional."
—David Giber, senior vice president, consulting and leadership development, Linkage, Inc.
"As executives operating in an often chaotic business environment, we know instinctively that our company's ability to zig and zag is critical. Leadership Agility takes that instinctive understanding and defines it, measures it, and shows us how to develop it in ourselves and others. This is a timely, thought-provoking, and very important book on leadership."
—Betsy Bernard, former president, AT&T
"Leadership Agility gave me the inspiration I needed to respond creatively and decisively to several of my current leadership dilemmas. Many readers are bound to be similarly inspired. The clear, specific guidance it provides makes it a "playbook" that managers and leaders will read closely and return to again and again."
—Bill Torbert, professor, the Boston College Carroll School of Management; author, Action Inquiry: The secret of timely and transforming leadership
"Leadership Agility gives you an insightful, research-based framework that helps you develop as a leader. This book is not about reading and agreeing/disagreeing, it's about learning and doing."
—Patrick Canavan, senior vice president, of Global Governance, Motorola
"Joiner and Josephs provide a clear, detailed road map that helps pinpoint where you are on your leadership journey and shows you how to get where you want to go."
—Lee Bolman, author, The Wizard and the Warrior; Marion Bloch/Missouri Chair in Leadership, Bloch School of Business and Public Administration, University of Missouri-Kansas City

About the Authors
Bill Joiner
and
Stephen Josephs
are world-renowned consultants and executive coaches whose clients include Aetna, Corning, Dell, EMC, IBM, Hewlett-Packard, MIT, Sun Microsystems, Sunoco, and Travelers. They are partners in ChangeWise, a leadership and organization development firm with offices in Boston and San Francisco. Bill Joiner is an adjunct faculty member at the Winston Center for Leadership and Ethics at Boston College, and received his doctorate from Harvard University. Stephen Josephs is a master coach with degrees from the University of Massachusetts, Harvard University, Antioch College, and Clark University.

Table of Contents
| | | |
| --- | --- | --- |
| | Introduction: The Master Competency | v |
| | | |
| | Part One:What Is Leadership Agility? | |
| 1 | Agility in a World of Change and Complexity | 3 |
| 2 | The Five Eds | 13 |
| 3 | Four Competencies for Agile Leadership | 31 |
| | | |
| | Part Two: Five Levels of Leadership Agility | |
| 4 | Expert Level: Solve Key Problems | 43 |
| 5 | Achiever Level: Accomplish Desired Outcomes | 64 |
| 6 | Catalyst Level:Mobilize Breakout Endeavors | 91 |
| 7 | Co-Creator Level: Realize Shared Purpose | 123 |
| 8 | Synergist Level: Evoke Unexpected Possibilities | 155 |
| | | |
| | Part Three: Becoming a More Agile Leader | |
| 9 | Assessing Leadership Agility | 193 |
| 10 | Developing Leadership Agility | 203 |
| | | |
| | Appendix A: Research Behind This Book | 227 |
| | Appendix B: Stages of Personal Development | 235 |
| | Notes for Inquiring Readers | 249 |
| | References | 295 |
| | Resources | 307 |
| | Acknowledgments | 309 |
| | The Authors | 311 |
| | Index | 312 |

Find Items On Similar Subjects

The Connected Leader
: Creating Agile Organisations for People, Performance and Profit

The Leader of the Future 2
: Visions, Strategies, and Practices for the New Era