Napoleon on Project Management
: Timeless Lessons in Planning, Execution, and Leadership
Jerry Manas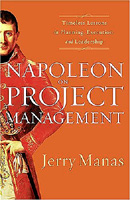 Format:
Hardcover, 288pp.
ISBN:
9780785212850
Publisher:
Nelson Business
Pub. Date:
April 11, 2006
Average Customer Review:

For Bulk Orders Call: 626-441-2024

Description and Reviews
From
The Publisher:
What is it about Napoleon Bonaparte that has led recognized modern-day leaders to study his principles—and countless books on management and leadership to quote his maxims? For one, Napoleon rose from relative obscurity to rule all of Western Europe in but a few years—something the Romans took centuries to accomplish.
He brought order out of chaos. He crafted an administration and civil code that is still in use today. His troops adored him, and the people admired him. Even his arch rival, the Duke of Wellington said, "In this age, in past ages, in any age, Napoleon."
Yet, Napoleon lost it all, only to die alone and in exile. Are there lessons for today's project managers and leaders to be found in his successes and ultimate failings? Indeed, there are.
Project management and leadership are unavoidably and indelibly linked. Recent studies show that excellence in project management is one of the leading enablers of organizational effectiveness. If goals are to be met, one must be equipped to achieve them. Likewise, good project management requires strong leadership if one is going to effectively lead others to achieve a goal.
Napoleon on Project Management
is the first book based on a historical figure to address both the leadership and project management community. It is also the first business book to offer valuable lessons based on the principles and maxims of Napoleon Bonaparte—the dynamic leader whose wisdom can reach across the chasms of the ages.
Napoleon on Project Management
explores the key principles behind Napoleon's successes, the triggers that led to his downfall, and the lessons to be learned from his ultimate demise-and applies these lessons to modern-day project management and leadership at all levels.

About the Author
A certified Project Management Professional,
Jerry Manas
has provided project management, team building, training, and product development services to the Information Technology sector for international Fortune 500 companies. He and his teams have received awards for numerous projects, including a global Y2K conversion project as well as acquisition and divestiture projects. He also contributed his leadership expertise to a multi-national Euro Currency Conversion Project.
Manas is on the Board of Directors for PMI's Aerospace and Defense Specific Interest Group (SIG), is co-founder of PMThink! Project Management Thought Leadership (www.pmthink.com), and is a contributor to several of PMI's international standards, including the Organizational Project Management Maturity Model (OPM3) and the upcoming standards for program and portfolio management.

Table of Contents
| | | |
| --- | --- | --- |
| | | |
| | Foreword | 5 |
| | Acknowledgements | 7 |
| | Introduction | 9 |
| | | |
| | Part 1: The Rise of Power | |
| 1 | The Skills to Succeed | 12 |
| 2 | A Compelling Vision | 28 |
| 3 | Diplomacy and Networking | 48 |
| 4 | Lessons From the Great Campaigns | 69 |
| | | |
| | Part 2: Napoleon's Six Winning Principles | |
| 5 | Introduction to the Six Winning Principles | 92 |
| 6 | Exactitude | 93 |
| 7 | Speed | 121 |
| 8 | Flexibility | 135 |
| 9 | Simplicity | 149 |
| 10 | Character | 160 |
| 11 | Moral Force | 173 |
| | | |
| | Part 3: The Downfall | |
| 12 | What Went Wrong? | 187 |
| 13 | Lessons from the Russian Invasion and Waterloo | 203 |
| 14 | The Five Critical Warning Signs | 220 |
| 15 | Napoleon's Legacy | 233 |
| | | |
| | Appendix | |
| | Essay: The Truth About Napoleon | 239 |
| | Bibliography | 247 |
| | About the Author | 254 |

Find Items On Similar Subjects

The Goal
: A Process of Ongoing Improvement