Fire Someone Today
: And Other Surprising Tactics for Making Your Business a Success
Bob Pritchett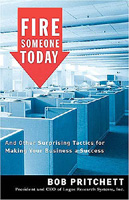 Format:
Paperback, 224pp.
ISBN:
9780785212621
Publisher:
Nelson Business
Pub. Date:
April 11, 2006
Average Customer Review:

For Bulk Orders Call: 626-441-2024

Description and Reviews
From
The Publisher:
Whether you are a young company that's just starting out or a mature business looking to grow, Bob Pritchett's hands-on advice and practical examples are a must-read for every manager, business owner, and entrepreneur.
Inside this book, you will not find Thirteen Incontrovertible Laws of Excellence. You won't find motivational clichés to frame and put on your desk. And there are no step-by-step instructions for writing a business plan.
Instead, in Fire Someone Today you'll read what Pritchett has discovered through his years of experience as an entrepreneur and small business owner. It is a book about what to do, what not to do, and why. For your business, it could be that one piece of advice that makes all the difference . . . and even give you a few laughs along the way.
Bob Pritchett started his first business at age six. In high school, he ran a software company that sold to Fortune 500 companies. By the age of 20, he had cofounded Logos Research Systems, Inc. He has seen the ups of high profits and the downs of a failed IPO attempt. Pritchett's successes and failures led him to write Fire Someone Today.
Far from a treatise on giving employees the axe,
Fire Someone Today
uses four categories—People, Leadership, Finance, and Operations—to cover a wide range of issues unique to the more than 20 million small business owners in the United States. Filled with hands-on advice and practical examples from real businesses, the book takes a no-nonsense approach to the uncomfortable decisions and actions that every manager, business owner, or entrepreneur must face.

Reviews
"Bob's book is like a year's worth of lunches with someone who has been way down the road and taken a lot of lumps--who can now help you avoid repeating his mistakes. And you only have to buy once."
—Guy Kawasaki, Author, The Art of the Start
"Made you think! And that's more than you can hope for from the typical business book, that's for sure. Everyone who manages anyone needs to think about the stuff inside."
—Seth Godin, Author, All Marketers are Liars
"Bob Pritchett has written a classic for anyone running or starting up a small to mid-sized business. There's compelling information on every page. I couldn't stop reading and the same will happen to you."
—Pat Wiliams, Senior Vice President, Orlando Magic
"FST is a breakthrough for those of us that hate wading through theoretical business books when we really want to read practical, actionable commentary. As founder of multiple businesses I found the material fresh, accurate and fraught with humor. A must read for every start-up CEO."
—Kevin Cable, Cofounder, Cascadia Capital
"I've watched companies such as Microsoft and RealNetworks grow to be powers in the industry. I've also started two businesses myself. Bob's advice is direct, accurate and honest. Even Bill Gates would have appreciated a copy in his early years! It's no wonder Bob has built such a successful business for himself, one which combines his personal and professional passions."
—Bruce Jacobsen - ex-general manager, Microsoft Kids/Games business unit, Managing Partner, DreamWorks Interactive, President RealNetworks, founder/CEO Kinetic Books

About the Author
Bob Pritchett
, cofounder and president/CEO of Logos Research Systems, Inc., has led his company through high growth, a nearly fatal IPO attempt, and back to solid, debt-free profitability. Bob is a 2005 winner of the Ernst & Young Entrepreneur of the Year Award. He and his family reside in Bellingham, Washington.

Table of Contents
| | | |
| --- | --- | --- |
| | Introduction | |
| 1 | Fire Someone Today | |
| 2 | You Are the Reason You Are in Business | |
| 3 | Nobody Loves Your Baby Like You Do | |
| 4 | There Can Be Only One-Plan for Your Partner's Departure | |
| 5 | Don't Hire Anyone You Haven't Interviewed | |
| 6 | Cash Is King | |
| 7 | Quality, Price, Service--Prioritize | |
| 8 | Nobody Needs an Optimistic Accountant | |
| 9 | You Can Always Find 5% | |
| 10 | Profit Is Why You Are in Business | |
| 11 | If You Are Not Growing, You Are Shrinking | |
| 12 | Good Systems Protect You from the Perfect Employee | |
| 13 | The One Who Writes Wins | |
| 14 | Read | |
| 15 | Don't Fly Blind--Build a Dashboard | |
| 16 | Visit Everyone in Person | |
| 17 | Press Is Yours if You Ask--and if You Want It | |
| 18 | In Acquisitions the Buyer Is the Loser | |
| 19 | Buy Lunch | |
| 20 | Winning Takes 51% | |
| 21 | Some People Are Your Greatest Assets | |
| 22 | Business Is a Serious Game | |

Find Items On Similar Subjects

Six Disciplines for Excellence
: Building Small Businesses That Learn, Lead and Last