The SPEED of Trust
: The One Thing that Changes Everything
Stephen M.R. Covey with Rebecca R. Merrill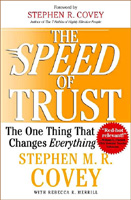 Format:
Paperback, 384pp.
ISBN:
9781416549000
Publisher:
Free Press
Pub. Date:
February 5, 2008
Average Customer Review:

For Bulk Orders Call: 626-441-2024

Description and Reviews
From
The Publisher:
In the readable and riveting style of
The Tipping Point
, Stephen M. R. Covey uncovers the overlooked and underestimated power of trust in a page-turning look into what he calls "the one thing that changes everything." A groundbreaking and paradigm-shifting book, The Speed of Trust challenges our age-old assumption that trust is merely a soft, social virtue and instead demonstrates that trust is a hard-edged, economic driver -- a learnable and measurable skill that makes organizations more profitable, people more promotable, and relationships more energizing. Written from his informed perspective as the former CEO of a $100 million enterprise, Covey draws on his pragmatic experience growing Covey Leadership Center (founded by his father, Dr. Stephen R. Covey) from a shareholder value of less than $3 million to a value of more than $160 million.
In this powerful new book, Stephen M. R. Covey articulates why trust has become the key leadership competency of the new global economy. He eloquently informs readers how to inspire lasting trust in their personal and professional relationships, and in so doing to create unparalleled success and sustainable prosperity in every dimension of life. He shows business, government, and education leaders how to quickly and permanently gain the trust of their clients, coworkers, partners, and constituents. Covey convincingly makes the case that trust is a measurable accelerator to performance and that when trust goes up, speed also goes up while cost comes down, producing what Covey calls a "trust dividend."
Covey reveals the 13 Behaviors common to high-trust leaders throughout the world and persuasively demonstrates actionable insights that will enable you to shift your behavior to increase -- and inspire -- trust in the important relationships in your life.
Like a ripple in the pond,
The Speed of Trust
begins within each of us personally, continues into our relationships, expands into our organizations, extends into our marketplace relationships, and ultimately encompasses our global society at large. Covey presents a road map to establish trust on every level, build character and competence, enhance credibility, and create leadership that inspires confidence.

Reviews
Covey convincingly validates our experience at Dell -- that trust has a bottom-line impact on results and that when trust goes up, speed goes up while costs come down. This principle applies not only in our professional relationships with customers, business partners, and team members but also in our personal relationships, which makes this insightful book all the more valuable."
—Kevin Rollins, President and CEO, Dell Inc.
"This book can change lives. Covey helps us understand how to nurture and inspire immediate trust in every encounter, which is the foundation for true and lasting success in life. A very interesting and enlightening read."
—Larry King
"Covey brilliantly focuses on that overlooked bedrock of democratic capitalism -- trust. Like the air we breathe, we too often take this critical intangible for granted. As Covey makes clear, we do so at our ultimate competitive peril."
—Steve Forbes, President and CEO, Forbes
"Want to be an irresistible positive force? Combine personal responsibility with compassion and respect for others. Want to know how to do this perfectly? Read The Speed of Trust."
—Dr. Laura Schlessinger, internationally syndicated radio host and author of The Proper Care and Feeding of Marriage
"Covey's book underscores the single most important factor -- the substrate -- that will determine the success (or failure) of any organization in the 21st century: TRUST. This is a powerful read: brave, imaginative, amazingly prescient, and backed up by empirical and analytical heft. A must-read for anyone in a position of responsibility, from a support group to a global corporation."
—Warren Bennis, Distinguished Professor of Business Administration, USC, and author of On Becoming a Leader


Reader's Index
Send us your favorite quotes or passages from this book
.
• "Simply put, trust means confidence. The opposite of trust -- distrust -- is suspicion. When you trust people, you have confidence in them -- in their integrity and in their abilities. When you distrust people, you are suspicious of them -- of their integrity, their agenda, their capabilities, or their track record. It's that simple. We have all had experiences that validate the difference between relationships that are built on trust and those that are not. These experiences clearly tell us the difference is not small; it is dramatic." Pg. 4

About the Author
Stephen M. R. Covey
is cofounder and CEO of CoveyLink Worldwide. A sought-after and compelling keynote speaker, author, and advisor on trust, leadership, ethics, and high performance, Covey speaks to audiences around the world. A Harvard MBA, he is the former CEO of Covey Leadership Center, which under his stewardship became the largest leadership development company in the world. Covey resides with his wife and children in the shadows of the Rocky Mountains.

Table of Contents
| | | |
| --- | --- | --- |
| | | |
| | Foreword by Dr. Stephen R. Covey | xxiii |
| | | |
| | The One Thing That Changes Everything | 1 |
| | Nothing Is as Fast as the Speed of Trust | 3 |
| | You Can Do Something About This! | 27 |
| | The First Wave-Self Trust: The Principle of Credibility | 41 |
| | The 4 Cores of Credibility | 43 |
| | Integrity Are You Congruent? | 59 |
| | Intent What's Your Agenda? | 73 |
| | Capabilities Are You Relevant? | 91 |
| | Results What's Your Track Record? | 109 |
| | The Second Wave-Relationship Trust: The Principle of Behavior | 125 |
| | The 13 Behaviors | 127 |
| | Talk Straight | 136 |
| | Demonstrate Respect | 144 |
| | Create Transparency | 152 |
| | Right Wrongs | 158 |
| | Show Loyalty | 165 |
| | Deliver Results | 172 |
| | Get Better | 177 |
| | Confront Reality | 185 |
| | Clarify Expectations | 192 |
| | Practice Accountability | 200 |
| | Listen First | 208 |
| | Keep Commitments | 215 |
| | Extend Trust | 222 |
| | Creating an Action Plan | 230 |
| | The Third, Fourth, and Fifth Waves-Stakeholder Trust | 233 |
| | The Third Wave-Organizational Trust The Principle of Alignment | 236 |
| | The Fourth Wave-Market Trust The Principle of Reputation | 261 |
| | The Fifth Wave-Societal Trust The Principle of Contribution | 272 |
| | Inspiring Trust | 285 |
| | Extending "Smart Trust" | 287 |
| | Restoring Trust When It Has Been Lost | 300 |
| | A Propensity to Trust | 316 |
| | | |
| | Notes and References | 325 |
| | Index | 339 |

Find Items On Similar Subjects

Trust
: The One Thing That Makes or Breaks a Leader