Warrior Politics
: Why Leadership Demands a Pagan Ethos
Robert D. Kaplan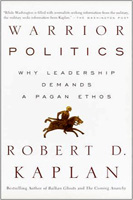 Format:
Paperback , 224pp.
ISBN:
9780375726279
Publisher:
Vintage
Pub. Date:
January 7, 2003
Average Customer Review:

For Bulk Orders Call: 626-441-2024

Description and Reviews
From
The Publisher:
"The side that knows when to fight and when not will take the victory. There are roadways not to be traveled, armies not to be attacked, walled cities not to be assaulted."
—Sun-Tzu
We live in dangerous times, when a new kind of leadership is required. Visionary and ruthlessly strategic, Warrior Politics extracts the best of the wisdom of the ages for modern leaders who are faced with the complex life-and-death challenges of today's world—and determined to win. Sun-Tzu urges leaders to "plan and calculate like a hungry man." Machiavelli defines a policy not by its excellence but by its outcome. Churchill derives his greatness from his imagination of history. Livy shows that the vigor to face down adversaries must ultimately come from pride in our own past achievements. "Never mind if they call your caution timidity, your wisdom sloth, your generosity weakness," he writes. "It is better that a wise enemy should fear you than that foolish friends should praise." "Men often oppose a thing merely because they have no agency in planning it," Alexander Hamilton says, "or because it may have been planned by those whom they dislike."
Replete with maxims, warnings, examples from history, and shrewd recommendations, Warrior Politics wrests from the past the lessons we need to arm ourselves for the present. It offers an invaluable template for any decision-maker—in foreign policy or in business—faced with high stakes and inadequate knowledge of a mine-filled terrain. As we gear ourselves up for a new kind of war, no book is more prescient, more shrewd, or more essential.

Reviews
"One of the most thought-provoking and profound books that I have recently read. As readable as it is stimulating."
—Henry Kissinger
"WARRIOR POLITICS is a masterpiece expressing the simple but elusive truth of the relevance of ancient lessons to modern circumstances in the most lucid and persuasive prose I've ever read. New Presidents seldom reach the White House with deep convictions regarding how best to advance our foreign interests. Most are torn between sympathies for Wilsonian moralism and more focused concern with our physical safety and economic welfare. In this brilliant book Robert Kaplan draws from Thucidides, Hobbes, Machiavelli, Madison and Marshall to assert timeless and penetrating lessons. A must-read for all who aspire to govern effectively."
—Robert McFarlane

About the Author
Robert D. Kaplan
is a correspondent for The Atlantic Monthly and the bestselling author of seven previous books on travel and foreign affairs, translated into many languages, including Balkan Ghosts, The Arabists, The Ends of the Earth, and The Coming Anarchy. He is a senior fellow at the New America Foundation. He lives with his wife and son in western Massachusetts.

Table of Contents
| | | |
| --- | --- | --- |
| | Acknowledgments | xv |
| | Preface | xiv |
| 1 | There Is No "Modern" World | 3 |
| 2 | Churhcill's River War | 17 |
| 3 | Livy's Punic War | 28 |
| 4 | Sun-Tzu and Thucydides | 38 |
| 5 | Machiavellian Virtue | 52 |
| 6 | Fate and Intervention | 65 |
| 7 | The Great Disturbers: Hobbes and Malthus | 78 |
| 8 | The Holocaust, Realism, and Kant | 96 |
| 9 | The World of Achilles: Ancient Soldiers, Modern Warriors | 116 |
| 10 | Warring States China and Global Governance | 134 |
| 11 | Tiberius | 150 |
| | Selected Bibliography | 157 |
| | Notes | 165 |
| | Index | 187 |

Customer Reviews
Write your own online review
.

Useful Wisdom of Warriors
April 24, 2003
Reviewer: David W. Landrum from Grand Rapids, Michigan United States
This book is a breath of fresh air. It proposes that when it comes to international politics, the main ethic to be considered is national interest. In a world where clergy, peace activists, and idealists of all stripes cry out against every military intervention and hobble very necessary agressive endeavors (like the wars in Iraq and Afganistan) with denunications, Kaplan's book sets out the plain, reasonable truth. The preservation of national interest--security, prosperity, free expression--should guide our foreign policy. This, he argues, will result in peace and security--not only for the United States but for the world. Adaptation of the ancient warrior ethic of the Romans and Greeks, and the ancient Chinese, is the most viable means for preserving order in an increasingly fragmented, dangerous world.

Find Items On Similar Subjects

Wisdom from the Ancients
: Enduring Business Lessons from Alexander the Great, Julius Caesar, and the Illustrious Leaders of Ancient Greece and Rome