Loyalty Myths
: Hyped Strategies That Will Put You Out of Business and Proven Tactics That Really Work
Timothy L. Keiningham, Terry G. Vavra, Lerzan Aksoy and Henri Wallard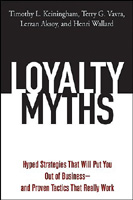 Format:
Hardcover, 272pp.
ISBN:
9780471743156
Publisher:
Wiley
Pub. Date:
September 15, 2005
Average Customer Review:

For Bulk Orders Call: 626-441-2024

Description and Reviews
From
The Publisher:
In
Loyalty Myths
, the authors have assembled 53 of the most common beliefs about customer loyalty – all of them wrong or misconceived! Each of the beliefs in this book is debunked with real-world examples. While other books speak in platitudes; this book is the only one to validate each proposition with real data.
Granted unprecedented access to customer records from a variety of multi-national corporations. Through these records, Ipsos Loyalty was able to precisely track the impact of this customer-centric construct on actual purchasing behavior. The authors' findings and conclusions will stun business leaders around the world. The lessons learned from these provide a true guide for the proper use of customer loyalty.
It's time to tear down the false idols of customer loyalty!
CEOs worldwide cite customer loyalty as their most important strategic objective, spending billions of dollars to hold onto their customers. Thousands of books and even more articles have been written about customer loyalty and everyone agrees it's vital. But are they right?
In
Loyalty Myths
, renowned authors from one of the world's premier business research firms reveal the ugly truth about customer loyalty—almost everything you've been told about it is wrong!
In fact, most popular loyalty maxims are based on faulty data or on a faulty reading of good data. For instance, most managers take it as gospel that all customers become more valuable over time. But it's not true! Some do just the opposite; they cost the company money over time. A CEO who keeps the wrong customers can lose millions! But business leaders do it every day because they fail to fully understand customer loyalty.
To set things straight,
Loyalty Myths
critiques 53 of the most common beliefs about customer loyalty and debunks them fully with hard science and even harder data. Using real-world examples and the latest facts and figures, the authors smash the platitudes and the easy assumptions about customer loyalty and offer real-world, fact-based methodologies that really do keep customers coming back.
But how do you know the authors are right? Granted unprecedented access to customer records from a wide variety of multinational corporations, they were able to track the impact of customer loyalty initiatives on actual purchasing. Their findings will force you to set aside the simple half-truths you thought would work and show you how to leverage your customer loyalty for maximum profit.
Customer loyalty is an important factor in the success of any business, but by oversimplifying it many businesses have failed to realize its full power and effectiveness. For any business leader who wants to truly understand customer loyalty—and get real results from customer loyalty programs—this book finally speaks the truth.

Reviews
"Keiningham et al. have fired a full broadside at the 'managerially correct' and seemingly unassailable notion that customer loyalty is all that matters. In examples, including First Chicago, Tansa, and Ryanair and through broadly researched data and analysis, they show that knowing what customers want and will pay for is the issue. This is a great place to start when doing a full review of the effectiveness of your marketing spend to find advantage in your competitors' inabilities to differentiate themselves."
—GEORGE STALK, Senior Vice President, The Boston Consulting Group and coauthor of Hardball: Are You Playing to Play or Playing to Win?
"This book is a must-read for every executive who is interested in reshaping their loyalty programs. The authors have presented the 53 myths with excellent supporting materials, which make everyone rethink their firm's loyalty strategy. I have no doubt that this book will revolutionize the thinking behind the loyalty concept."
—V. KUMAR, ING Chair Professor, University of Connecticut and coauthor of Customer Relationship Management: A Databased Approach
"Loyalty Myths provides great insight as to why simple answers never work in customer loyalty. The authors show, with many real-life examples, how businesses can go wrong in adopting an unquestioned mantra of 'customer loyalty is all that counts' and illustrate how it will most likely not help, but hurt profitability. Finally, the book gives managers a guide to get started on a more comprehensive approach to customer loyalty that already whets one's appetite for the sequel to this must-read book."
—PETER JUEPTNER, Executive Vice President, The Great Atlantic and Pacific Tea Company
"Loyalty Myths is a must-read for anyone who manages customer loyalty. Keiningham and his colleagues mix their own considerable experience with the latest academic knowledge, and package it in an entertaining way."
—RONALD T. RUST, David Bruce Smith Chair in Marketing, University of Maryland, and Editor of the Journal of Marketing
"It's no joy to have your beliefs challenged, even rubbished, but it's very healthy! Anyone interested in customer loyalty will enjoy trying to prove the authors wrong."
—SENATOR FEARGAL QUINN, CEO, SuperquinnStores, Ireland, and author of Crowning the Customer: How to Become Customer Driven

About the Authors
TIMOTHY L. KEININGHAM is Senior Vice President and Head of Consulting for Ipsos Loyalty. He is the author of several books and articles on customer satisfaction and loyalty, and has won best paper awards from the Journal of Marketing and the Journal of Service Research.
TERRY G. VAVRA is Chairman Emeritus of Ipsos Loyalty. He is a customer satisfaction and loyalty consultant, a public speaker on these subjects, and the author of four books (including one of the first books on CRM) and numerous articles in these fields. He is also a former educator who taught at the graduate level.
LERZAN AKSOY is Assistant Professor of Marketing at Koç University in Istanbul, Turkey. Her research interests include customer satisfaction, loyalty, and relationship management. She has provided executive training on customer relationship management to executives from numerous multinational companies.
HENRI WALLARD is CEO of Ipsos in charge of Ipsos Loyalty.

Table of Contents
| | | |
| --- | --- | --- |
| | Preface | |
| | Introduction: The Myths of Loyalty: Did the Gods Mislead Us? | |
| 1 | Loyalty Myths that Subvert Company Goals | |
| 2 | Loyalty Myths Contaminating Company Management Practices | |
| 3 | Myths about Customers: Their Needs, Behaviors and Referrals | |
| 4 | Myths Concerning Loyalty Programs | |
| 5 | Myths About Loyalty, Share of Business, and Profitability | |
| 6 | Loyalty Myths Regarding Employees | |
| 7 | The Foundations of Customer Loyalty | |
| 8 | The Right Way to Manage for Customer Loyalty | |
| | Acknowledgements | |