The Energy Bus
: 10 Rules to Fuel Your Life, Work, and Team with Positive Energy
Jon Gordon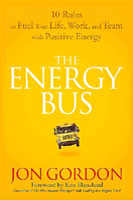 Format:
Hardcover, 192pp.
ISBN:
9780470100288
Publisher:
Wiley
Pub. Date:
January 22, 2007
Average Customer Review:

For Bulk Orders Call: 626-441-2024

Description and Reviews
From
The Publisher:
It's Monday morning and George walks out of the front door to his car and a flat tire. But this is the least of his problems. His home life is in shambles and his team at work is in disarray. With a big new product launch coming in two weeks for the NRG-2000, he has to find a way to get it together or risk losing his marriage and job. Forced to take the bus to work, George meets a unique kind of bus driver and an interesting cast of characters who, over the course of two weeks, share the ten rules for the ride of his life. In the process, they help him turn around his work and life, saving his job and marriage from destruction.
In the style of other bestselling business fables,
The Energy Bus
takes readers on an enlightening and inspiring ride that reveals ten secrets for approaching life and work with the kind of positive, forward thinking that leads to true accomplishment—at work and at home.
Everyone faces challenges. And every person, organization, company, and team has to overcome negativity and adversity to define themselves and create their success. No one goes through life untested and the answer to these tests is positive energy—the kind of positive energy that consists of the vision, trust, optimism, enthusiasm, purpose, and spirit that defines great leaders and their dreams.
Drawing upon his experience and work with thousands of leaders, sales professionals, teams, nonprofit organizations, schools, and athletes, Gordon infuses this engaging story with keen insights, actionable strategies, and a big dose of positive infectious energy.
For managers and team leaders or anyone looking to turn negative energy into positive achievement,
The Energy Bus
provides a powerful plan for overcoming common life and work obstacles and bringing out the best in yourself and your team. When you get on
The Energy Bus
, you'll enjoy the ride of your life.

Reviews
"Given the challenges and adversity we face in business and life today, Jon Gordon provides a clear road map to navigate the negativity and pitfalls that too often sabotage individual and team success as he shines a light on the truths that define great leaders, great teams, and great energy. I especially loved the part about leading with purpose. I consider this a valuable book for anyone looking to bring out the best in themselves and their team."
—Tom Gegax, founder of Tires Plus and author of The Big Book of Small Business
"Purpose, vision, enthusiasm, and spirit are all critical elements for individual and team success. The Energy Bus does a masterful job of weaving together these principles to create a dynamic and entertaining read that will infuse you and your team with positive energy. Get on the bus and enjoy the ride."
—Pat Williams, Senior Vice President of the NBA's Orlando Magic
"At Simple Truths, we believe that your core values will determine your success in business and in life. Having the right outlook, the right energy, is a vital part of that core. The Energy Bus, by Jon Gordon, will take you on a journey through life, unlocking the essentials for effective leadership and service."
—Mac Anderson, President of Simple Truths and founder of Successories
"If you want to build a positive, high-performing organization, then get on the bus and read this book."
—Jeffrey Fox, bestselling author of Secrets of Great Rainmakers
"Negative energy can cripple companies at worst and make them less productive at best. If you aren't making energy a part of your business strategy, you're missing the bus. Use Gordon's techniques to cultivate positive energy in yourself and in your team and watch your profits grow."
—Dwight Cooper, CEO of Professional Placement Resources, one of the Inc. 500 fastest growing private companies
"The world would be a much better place if we all focused on being positive. Gordon is 'the Pastor of Positive Energy' and I'm one of his believers."
—Danny Gans, Las Vegas Entertainer of the Year
"Gordon so inspired our sales professionals with his positive energy that they were asking for more. Now, here is his philosophy in a book we can read and quote—and we will!"
—Linda H. Sherrer, President and CEO of Prudential Network Realty

About the Author
Jon Gordon
is a leading authority on developing positive, engaged people, leaders, businesses, schools, and teams. He is also the cofounder of the PEP—Positive Energy Program, which creates and funds programs that develop healthy, positive children. Jon and his energy solutions have been featured in hundreds of television shows, magazines, and newspapers around the world including CNN's American Morning, NBC's Today show, Men's Health, Forbes, and Positive Thinking. He is also the author of The 10-Minute Energy Solution and Energy Addict: 101 Physical, Mental, and Spiritual Ways to Energize Your Life. Jon is a graduate of Cornell University and holds a master's degree from Emory University. He lives with his wife and two children in Northeast Florida.

Find Items On Similar Subjects

Training Camp
: What the Best Do Better Than Everyone Else

The No Complaining Rule
: Positive Ways to Deal with Negativity at Work