Flipping the Switch...
Unleash the Power of Personal Accountability Using the QBQ!
John G. Miller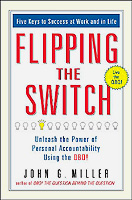 Format:
Hardcover, 144pp.
ISBN:
9780399152955
Publisher:
Putnam Adult
Pub. Date:
December 29, 2005
Average Customer Review:

For Bulk Orders Call: 626-441-2024

Description and Reviews
From
The Publisher:
Asking the right kind of question isonly the first step to becoming fullyengaged at work and in life.
In his bestselling book
QBQ! The Question Behind the Question
, John G. Miller revealed how personal accountability helps to create opportunity, overcome obstacles, and achieve goals by eliminating blame, complaining, and procrastination. The result? Stronger organizations, more dynamic teams, and healthier relationships.
Now Miller takes readers to the next level to show how they can use the power of the QBQ! and personal accountability every day.
When a light switch is flipped the flow of energy that is released reaches the lightbulb in an instant, bringing it to life. Similarly, asking the right kind of question-a QBQ-is the first step to empowering what Miller calls the Advantage Principles-five essential practices that will lead to a richer experience in every aspect of life:
LEARNING: live an engaged and energized life through positive personal growth and change
OWNERSHIP: attain goals by becoming a solution-oriented person who solves problems
CREATIVITY: find new ways to achieve by succeeding "within the box"
SERVICE: build a legacy by helping others succeed
TRUST: develop deep and rewarding relationships
With compelling real-life stories and keen insights, Miller demonstrates how anyone can find success and satisfaction by "flipping the switch."

Reviews
Leadership guru Miller expands on the anti-buck-passing principles of his QBQ: The Question Behind the Question in this winsome volume of business homiletics. The QBQ methodology aims to replace plaintive, querulous thoughts of "Why is this happening to me?" and "When will others do things right?" with more constructive questions like "What can I do to contribute?" This shift in perspective, he contends, short-circuits the unhelpful behaviors of blaming, complaining, procrastinating and "thinking like a victim," and empowers people to solve problems themselves instead of whining about them. The ethos of personal accountability, he continues, reinforces other virtuous habits, including learning, creativity, service and trust, and imbues organizations with a cheerful, cooperative, can-do spirit. The author conveys these truths in a plainspoken style, replete with business anecdotes on such topics as great (or sullen) customer service, the importance of delegating and the demoralizing effects of e-mail flame wars. Miller's credo of personal accountability is not a sufficient moral code; sometimes it licenses unreasonable-and somewhat ironic-demands for customer pampering, as when Miller wishes a hotel clerk would make himself personally accountable for shining his scuffed shoes. Still, Miller's call for active engagement instead of passive resentment is a useful one that readers will find easily digestible and mildly inspiring.
—Publishers Weekly, Copyright © Reed Business Information, a division of Reed Elsevier Inc. All rights reserved.

About the Author
John G. Miller
is the founder of QBQ, Inc., an organizational development firm dedicated to making personal accountability a core value for companies and individuals. Through his writing, speaking, and a nationwide network of certified QBQ! consultants, Miller has brought his message to countless organizations, including Bausch & Lomb, Blockbuster, Wells Fargo, Verizon Wireless, Applebee's, Boeing, and the U.S. Department of Defense. Miller is the author of QBQ! The Question Behind the Question.

Find Items On Similar Subjects

QBQ!
The Question Behind the Question