The Last Coach: A Life of Paul "Bear" Bryant
Allen Barra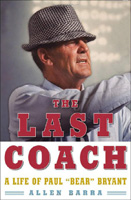 Format:
Paperback, 608pp.
ISBN:
9780393328974
Publisher:
W. W. Norton
Pub. Date:
September 12, 2006
Average Customer Review:

For Bulk Orders Call: 626-441-2024

Description and Reviews
From
The Publisher:The explosive biography of the greatest college football coach in history.
When Paul William "Bear" Bryant died on January 26, 1983, it was the lead story on the all three networks' evening news. New York City newspapers reported his death on their front pages. ("Crimson Tears," read the headline in the New York Post, "Nation weeps over death of legendary Bear Bryant, 69.") Three days later, America watched in awe as an estimated quarter of a million mourners lined the fifty-five mile stretch from Tuscaloosa to a Birmingham cemetery to pay their respects as his three-mile long funeral cortege drove by.
President Reagan and the three former American presidents sent flowers, as did people as diverse as Bob Hope, ABC's Roone Arledge, advice columnist Ann Landers and the Reverend Billy Graham. Scores of Bryant's former players, including Joe Namath, Lee Roy Jordan, Ken Stabler and Ozzie Newsome, were in attendance. So were Bryant's most distinguished colleagues, the greatest living football coaches, including Southern Cal's John McKay, who said, "It was like a presidential funeral procession. No coach in America could have gotten that. No coach but him. But then, he wasn't just a coach. He was the coach."
Bryant's passing was noted with the kind of reverence our country reserved for statesmen or military leaders, though Paul "Bear" Bryant had insisted for much of his life that he was "just a football coach." For millions he was much more, he was the greatest coach the game ever saw, the heir to the tradition established by Knute Rockne. He took his Alabama Crimson Tide teams to an unmatched six national championships. But to the players, journalists and fans whose lives he touched in his more than half a century as a player and coach, he was the last symbol of values that transcended football—courage, discipline, loyalty, and hard work.
To his critics, Bryant represented the dark side of big-time college football—brutality, fanaticism and blind adherence to authority. The real Bear Bryant was far more complex than either his admirers or detractors knew. While maintaining a public friendship with Alabama governor George Wallace, he continually sought ways to undermine the governor's segregationist policies, finally forcing a legendary football game in Birmingham with the University of Southern California that opened the floodgates to the integration of football at the University of Alabama, including its coaching staff. Old fashioned in his politics, he was nonetheless an admirer of Robert Kennedy, whom he was planning to vote for in 1968.
Allen Barra's The Last Coach traces Paul Bryant's rise from a family of truck farmers to recognition as the most successful and influential coach in the game's history. The eleventh of thirteen children, Bryant was born in tiny Moro Bottom, Arkansas in 1913 and grew up in nearby Fordyce—where his legend was born when he wrestled a live bear on the stage of a local theater. Paul was raised by his mother, who barely managed to keep him out of trouble and on the Fordyce High School Redbugs long enough to get a football scholarship at Alabama, where he would meet and marry the love of his life, campus beauty queen Mary Harmon Black.
At the height of the Depression, football took Bryant to the Rose Bowl with Alabama's 1934 national champions and on to a career as an assistant and, finally, a head football coach, where he matched wit and grit with the greatest coaches of two generations, men like Tennessee's General Robert Neyland, Oklahoma's Bud Wilkinson, Notre Dame's Ara Parseghian, Ohio State's Woody Hayes, and Penn State's Joe Paterno. Along the way, he stirred controversy with his infamous "Junction Boys" training camp in 1954, during which almost two-thirds of the Texas A&M football team quit; his legal battle with The Saturday Evening Post over the accusation that he had conspired to fix a college football game, a trial which rocked the sports world; and his pursuit of Amos Alonzo Stagg's all-time record for college coaching victories.
Through it all, Bryant's influence has not only endured but prevailed as his former players and assistants continue to define the best in not only college but professional football. 32 pages of photographs.

Reviews
If you are a college football junkie like me, you will welcome this book about Bear Bryant.
—Dan Jenkins, author of Slim And None
The best-researched and best chronicle of his life.
—Keith Jackson, ESPN
Barra on The Bear is a must read. Few people approach sports with the intellectual vigor and discipline of Barra.
—Bob Costas
The Beat growls again, and real gravitas is heard in the land.
—Roy Blount, Jr.
Allen Barra researches a book the way Coach Bryant prepared for a game. This is a perfect fit.
—Mickey Herskowitz
Finally a biography worthy of the man…The Last Coach tells why Paul Bryant mattered so much to so many.
—Mark Kreigel, author of Namath: A Biography
A thorough and well-written biography….Sports fans and historians will devour this outstanding book.
—Bart Starr, former quarterback, Green Bay Packers
Starred Review. This meticulous, fascinating look at the life of the legendary "Bear" Bryant (1913–1983), longtime head football coach of the University of Alabama's fearsome "Crimson Tide," will further enhance the reputation of Barra (Clearing the Bases) as one of America's finest sportswriters. It begins with a powerful and unsentimental view of Bryant's difficult childhood in Moro Bottom, Ark., an area Barra describes as "the reality of which Al Capp's Dogpatch, the home of L'il Abner, was the hideous caricature." It ends with a moving description of Bryant's death, just 27 days after his final game and retirement, and the three-mile-long funeral procession viewed by an estimated quarter of a million people. In between, Barra covers Bryant's rise as a cultural and sports icon whose influence helped transform college football "from a game with a large cult following into the most lucrative spectator sport in the world." Among the many incidents Barra deftly explores are Bryant's hesitancy—followed by his thoroughness—in integrating the Alabama team (in 1971), and his visionary use of televised games in the early 1960s—which he accomplished with ABC sports broadcasting superstar Roone Arledge, then a 29-year-old rookie—to establish himself and his team (including flamboyant players such as Joe Namath) in the minds of a national sports audience. Throughout, Barra illuminates the complexities of what he sees as Bryant's legacies: "his intensity and will to win and his unshakable belief that these qualities, when applied to a higher purpose, can make you a better person." Photos.
—Publishers Weekly, Copyright © Reed Business Information, a division of Reed Elsevier Inc. All rights reserved.

About the Author
A native of Alabama,
Allen Barra
contributes regularly to the Wall Street Journal, The New York Times, and Slate. He is the author of
Clearing the Bases: The Greatest Baseball Debates of the Last Century
. He lives in South Orange, New Jersey.