The World According to Peter Drucker
Jack Beatty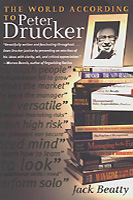 Format:
Paperback, 204pp.
ISBN:
9780767903028
Publisher:
Bantam Books
Pub. Date:
January 1999
Average Customer Review:

For Bulk Orders Call: 626-441-2024

Description and Reviews
From
The Publisher:
The World According to Peter Drucker
is the first biography and concise intellectual portrait of one of the twentieth century's great minds - "the greatest thinker management theory has produced," in the words of The Economist. Written with Drucker's full cooperation, the book ranges over six decades of Drucker's work from his early antifascist writings to his very latest books. The reader learns the inside story of why Drucker's classic study of General Motors, Concept of the Corporation, was scorned by GM's storied chairman, Alfred P. Sloan; watches over Drucker's shoulder as he virtually invents management and management theory; and notes the recurring paradox of Drucker's career: the "man who invented the corporate society" has been a sometimes sulphuric critic of capitalist excess. Indeed, Drucker, the author writes, should be seen as "a moralist of our business civilization."

Reviews
While Drucker famously denies he invented modern management, claiming that that idea is nonsense—he once told me that 'the CEO of the builder of the Cheops pyramid 6,000 years ago surely knew more than any CEO today'— he has most certainly spawned the major management ideas of this century. And this book, beautifully written and fascinating throughout, does Drucker justice by presenting an omnibus of his ideas with clarity, wit, and critical appreciation [of not] just management ideas, but ideas about how the world works and the ropes we have to learn (not pull!) to succeed in that world.
—Warren Bennis
Jack Beatty's lucid book captures beautifully the high points of Drucker's extraordinarily influential ideas. Now an even wider audience can experience Peter Drucker's great insight and foresight, learning why CEOs still hang on his every word.
—Rosabeth Moss Kanter

About the Author
Jack Beatty
is a Senior Editor at
The Atlantic Monthly
, where he has edited several of Peter Drucker's articles, and the author of
The Rascal King
, a biography of the legendary Irish-American politician James Michael Curley that John Kenneth Gaibraith described as "truly brilliant."

Find Items On Similar Subjects

Peter F. Drucker

Peter Drucker
: Shaping the Managerial Mind