Virtuoso Teams
: Lessons from Teams that Changed their World
Andy Boynton and Bill Fischer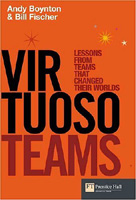 Format:
Hardcover, 224pp.
ISBN:
9780273702184
Publisher:
Financial Times Prentice Hall
Pub. Date:
November 9, 2005
Average Customer Review:

For Bulk Orders Call: 626-441-2024

Description and Reviews
From
The Publisher:
What do Ducati, Miles Davis, and West Side Story have in common? At the heart of all three were dynamic teams of inspired individuals. They worked together to break out of the commonplace, creating big change.
How did these teams form? How were they managed? How were they led? How can leaders build and manage similar teams that transform enterprises?
For ordinary initiatives, ordinary teams will suffice. When big, discontinuous change is required, a different sort of team and leadership is needed. These Virtuoso Teams make the difference between real success and just achieving another modest result.
What, then, is a Virtuoso Team?
They are an elite squad. Revolutionaries that are catalysts for big change. Unlimited by the conventional approach to teamwork, they are frequently contentious and always less comfortable. But, if you can pull together the right people and manage them in the right way, the results can be extraordinary.
It sounds simple, but the ingredients for virtuoso teams are rarely attempted in most organizations. They are considered "too risky, too temperamental, too ego-centric, and too difficult to control". So we see that time and time again, ambitious efforts led by traditional teams in organizations fall far short of the mark. Great things don't happen. Big results are not delivered. The entire organization is held back, an outcome unacceptable in today's ultra-competitive world.
Written for managers needing big change or, those of us simply tired of reading the same old business case studies; Virtuoso Teams introduces you to some of the most compelling and wide-ranging stories of remarkable team leadership ever assembled:
Miles Davis
: A serial innovator who surrounded himself with virtuoso talent, at least three times, to change the face of jazz.
Sid Caesar
: Led a weekly, frenzied process with a team that included: Mel Brooks, Woody Allen and Neil Simon, which revolutionised television entertainment and comedy.
Thomas Edison
: Not the lonely "Wizard of Menlo Park" at all, but the captain of a great team of gifted individuals.
Roald Amundsen
: The explorer who won the race to the South Pole by picking and leading an expert team that was better able to learn and adjust than their competitors.

Reviews
"I never thought I would be extolling the virtues of a book on Virtuoso Teams unless it specifically pertained to baseball. Nevertheless here I am praising a book on the advisability of developing Virtuoso Teams--regardless of the type of organization in which you belong. If you aspire to develop an organization of high-performers or take an organization of high-performers to an even higher "next level"–Andy Boynton and Bill Fischer's Virtuoso Teams is a definitemust read!"
—George M. Steinbrenner III, Owner Managing General Partner, New YorkYankees Baseball Club

About the Authors
Professor Andy Boynton
is presently the Dean at Boston College's Carroll School of Managament, and has also been on the faculty of the University of Virginia's Darden School.
William A. Fischer
is Professor of Technology Management at IMD, and has been executive president and dean of the China-Europe International Business School (CEIBS), in Shanghai, China.

Table of Contents
1
Unleash the talent of Virtuoso Teams:
Managing and leading a very special kind of team
1
2
Stretch the Customer, Stretch Ourselves:
The impolite team behind West Side Story
23
3
The Critical Ingredients for Critical Mass:
Using time pressure to trigger talent in the Manhattan Project
43
4
Drive Change Inside and Outside the Team:
Creating Revolution on Demand in Thomas Edison's invention factory
61
5
The More you Know the Faster you Go:
Racing to the South Pole with Roald Amundsen's Explorers
81
6
Deliver Great Results, Week by Week:
Balancing freedom with direction under Sid Caesar's leadership
101
7
Lead Talent with Trust:
Miles Davis creates Serial Innovation through Listening and Improvisation
125
8
Hot teams in a Cold Climate:
Norsk Hydro breaks the rules for a fast recovery in the face of adversity
147
9
Turbo-charge Your Own Team:
How you can lead your team to high performance
163
Appendix 1
A how-to guide
187
Appendix 2
Three examples of DeepDive Agenda
191
Appendix 3
Sample materials used in a DeepDive
197
Index
199