The Allure Of Toxic Leaders
: Why We Follow Destructive Bosses And Corrupt Politicians—and How We Can Survive Them
Jean Lipman-Blumen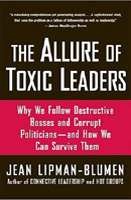 Format:
Paperback, 320pp.
ISBN:
9780195312003
Publisher:
Oxford University Press
Pub. Date:
New Ed edition October 1, 2006
Average Customer Review:

For Bulk Orders Call: 626-441-2024

Description and Reviews
From
The Publisher:
Toxic leaders--such as Ken Lay at Enron or Al Dunlap ("Chainsaw Al") at Sunbeam, or Slobodan Milosevic in Yugoslavia--have always been with us, and many books explain what makes them tick. But in
The Allure of Toxic Leaders
, Jean Lipman-Blumen explains what makes the followers tick, exploring why we tolerate--and remain steadfastly loyal to--leaders who are destructive to their organizations, their employees, their nations, and their constituents.
Why do we knowingly follow, seldom unseat, frequently prefer, and sometimes even create toxic leaders? Lipman-Blumen argues that these leaders appeal to our deepest needs, playing on our anxieties and fears, on our yearnings for security, high self-esteem, and significance, and on our desire for noble enterprises and immortality. The author explores how psychological needs--such as the desire to be at the heart of the action, to be an insider--can often make us susceptible to toxic leaders. She describes how followers inadvertently keep themselves in line by a set of insidious control myths that they internalize. In addition, outside forces--such as economic depressions, political upheavals, or a crisis in the company--can increase our anxiety and our longing for charismatic leaders. Equally important, Lipman-Blumen shows how followers, mired in the swamp of toxic leadership, can learn critical lessons for the future and survive in the meantime. She discusses how to confront, reform, undermine, blow the whistle on, or oust a toxic leader. And she suggests how we can diminish our need for strong leaders, identify "reluctant leaders" among competent followers, and even nurture the leader within ourselves.
Toxic leaders first charm, but then manipulate, mistreat, weaken, and ultimately devastate their followers. The Allure of Toxic Leaders tells us how to recognize these leaders and identify the germ of toxicity within their "noble" visions before it's too late.

Reviews
"A remarkably comprehensive yet penetrating analysis that sees bad leadership both as morally wrong and psychologically dysfunctional, with practical strategies for reform. A sophisticated study that sees the problem as a failure of followership as well as leadership."
—James MacGregor Burns
"It's a long, detailed, thoughtful essay, concentrating on followers and the predicaments they find themselves in with toxic leaders, and the various strategies they employ to extricate themselves. It's rewarding, but not easy, reading."
—Globe & Mail
"I thought it was an absolutely brilliant book... I've read few books in my life that made me see things from a wholly new perspective. This was one of those very few."
—Robert J. Sternberg, IBM Professor of Psychology and Education, Yale University
"A solid look at a dismaying business trend.... Examines the seemingly inexplicable reasons why many employees are loyal to CEOs and politicians who abuse power, cook finances and otherwise virtually destroy their companies.... Offers numerous examples in both politics and business of toxic leaders who have survived crises and received accolades despite their obvious flaws.... The book's strength is the detailed psychological approach to examining the phenomenon of loyalty to toxic leaders."
—Publishers Weekly
"Whose fault is it that we seem to have so many bad (toxic) leaders today? Jean Lipman-Blumen asserts that everyone's to blame, especially us followers. Beautifully reasoned and intricately argued, she convincingly explains how followers help spawn toxic leaders. Fortunately, she also tells us how to get out of the trap we're in and proposes a highly innovative model of leadership that promises a healthier future."
—Jerry I. Porras, Lane Professor of Organizational Behavior and Change, Emeritus, Stanford Business School
"In this powerful and eye-opening book, Lipman-Blumen illuminates the darkness of the rarely understood--except to its victims--dangers of evil leadership. She proffers wise counsel and early warnings on how to detect and defend against it. I enthusiastically recommend it to all leaders--and even more, to their vulnerable followers."
—Warren Bennis, Distinguished Professor of Business, University of Southern California, and author of On Becoming a Leader
"The Allure of Toxic Leaders provides remarkable insights into why so many destructive leaders gain and keep power. By explaining the role of followers, Jean Lipman-Blumen makes a profound statement about the nature of leadership itself."
—Max De Pree, former CEO of Herman Miller, Inc.
"In our search for leaders, our appraisal of leaders, Jean Lipman-Blumen provides us with a powerful tool to identify, understand and analyze the toxic leader as she gives us fresh observations on our own journey to leadership."
—Frances Hesselbein, Chairman, Leader to Leader Institute; founding President of the Peter F. Drucker Foundation for Nonprofit Management


Reader's Index
Send us your favorite quotes or passages from this book
.
• "Do no look for saints among formal leaders. Saints rarely seek elected or appointed office. They seldom enter the rough-and-tumble of politics or the corporate world. Nor are we likely to encounter saintly leaders in the spit and polish of the traditional military. And, certainly, we'll be hard pressed to find them in the more arcane halls of academia." Pg. 5
• "Sometimes we recognize leaders' toxicity only after they leave their institutions in disarray and their hapless followers in despair. Worse yet, we frequently perceive the inadequacies of toxic leaders in real time but do little to stop them." Pg. 10
• "Leadership is often treated as action by the leader directed toward or against others. More appropriately, we should view leadership as interaction between leaders and their followers. What goes on between leaders and their supporters is perhaps far more significant for the course of history than simply what leaders do to followers. Not only do we fail to dissect the interaction between leader and follower, but we often completely ignore the followers. We allow their inaction in the face of toxic leadership to fall below our angle of vision." Pg.17

About the Author
Jean Lipman-Blumen
is the Thornton F. Bradshaw Professor of Public Policy and Professor of Organizational Behavior at the Peter F. Drucker and Masatoshi Ito Graduate School of Management, Claremont Graduate University, in California. She is a co-founding director of the Institute for Advanced Studies in Leadership and served as a special advisor in the White House under President Carter. Her books include
The Connective Edge: Leading in an Interdependent World
and
Hot Groups: Seeding Them, Feeding Them, and Using Them to Ignite Your Organization
(with Harold J. Leavitt), which was the Association of American Publishers' "Business Book of the Year."

Find Items On Similar Subjects

Connective Leadership
: Managing in a Changing World