No-Nonsense Leadership
: Real World Strategies to Maximize Personal & Corporate Potential
Dave Anderson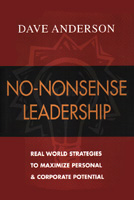 Format:
Hardcover, 195pp.
ISBN:
0970001843
Publisher:
Learn To Lead Press
Pub. Date:
October 2001
Average Customer Review:

For Bulk Orders Call: 626-441-2024

Description and Reviews
From
The Publisher:
One of the most dangerous situations for businesses today is the high number of men and women in leadership positions who aren't leaders. Many of these people are good managers: trained well in technical aspects of the job. But they lack a balance of leadership skill and thus can't bring the best out of themselves, others or their organization. Many good managers have become extremely successful in their roles, but without strong leadership ability they will never reach their potential, help those in their charge reach theirs or lead their organization to its.
No Nonsense Leadership:™ Real World Strategies to Maximize Personal & Corporate Potential
is designed to help anyone in a leadership position, or aspiring to earn a leadership position, develop the mind set and skills it takes to lead effectively and reap significant gains in productivity both personally and from those they lead. It does so in direct, plain terms with strategies that can be applied immediately for better results.
Each chapter in the book begins with Opening Thoughts designed to increase your leadership perspective. Following are four short sections written in easy-to-apply, bite-sized form: Growing Yourself As A Leader, Developing Others, Developing the Organization and Just A Thought (A no-holds barred leadership editorial.) Each chapter concludes with Closing Thoughts & Marching Orders that helps you turn what you learned into action and results. The topics are not set up as a rigid sequence. Read the book from cover to cover or thumb through the table of contents and go directly to a topic that interests you. Throughout
No Nonsense Leadership
™ you'll find strategies that are basic as well as those that challenge conventional thinking. You may not always agree and that's OK. But keep your mind open and give these thoughts a fair hearing. After all, there's one reason 'conventional thinking' is conventional: everyone is using it, and since most people and organizations are average, conventional thinking must be challenged and violated.

About the Author
Dave Anderson
has been in sales and management all his adult life, spending years successfully selling insurance and automobiles. He currently conducts seminars worldwide on sales and management excellence, writes a monthly magazine column on leadership, publishes "
Leading At The Next Level
" newsletter and has a full service web site full of free weekly articles on sales, management and leadership. Dave is the author of over 50 programs on sales and management, including, "
The 15 Commandments For Peak Performance In Sales
" and "
How To Develop A Dynamic Vision For Your Organization
."

Table of Contents
Chapter I:
A Leader's First Responsibility
Vision: A Leader's First Responsibility
Your People Need A Coach Not A Cop!
Seven Steps to Recruiting & Hiring A Team of All Stars
Weeding Out "Loyal" Non-Performers


Chapter II:
The Power Of Bold Vision
Five Steps To Developing A Dynamic Vision For Your Organization
Coaching & Motivating Others Through Powerful One-On-Ones
A Classic Sign Of Weak Leadership: Figuring The 'Easy' Cost
Are You Creating Conquerors or Cowards?


Chapter III:
A Leader's First Responsibility
Leaders, Have You Sold Yourself Lately?
Helping Others Develop A Personal Growth Plan
Two Steps To Prevent The Decline Of Your Enterprise
Where Have All The Leaders Gone?


Chapter IV:
Balance Management with Leadership
Are You More Manager Than Leader?
Take The Chains Off Your People?
How To Continually Evaluate & Upgrade Your Roster
Stretch Goals: The Value of 'Swinging For The Fences'


Chapter V:
Build A Better People
Making 'Deposits' Into Your Co-Workers
Why 'I Can' Beats I.Q. Every Time
Six Steps To Power Motivating
A Fish Rots At The Head


Chapter VI:
Traits That Conspire Against Good Leadership
Four Traits Designed to Keep You Average
Eight Point Check-Up for Management Productivity
How to Stay Off the Endangered Species List
Self-Investment: Put Your Money Where Your Mouth Is!


Chapter VII:
Traits That Promote Good Leadership
Two Common Traits of Uncommon Leaders
Drawing the Best Out of Your People
When Empowering Your People is a Waste Of Time
Are Leaders Born or Made?


Chapter VIII:
The More Your Prepare The Less You Repair
Preparation: All's Well That Begins Well
Three Keys To Building Self-Esteem
Leveraging Your Time For Maximum Impact
Teamwork Is Everyone's Job


Chapter IX:
Decisions That Make Your Gut Ache
Making The Tough Calls
Thirty Thoughts To Stretch Your People
Three Quick Thoughts On Building Your Brand
Drop The Excuses For Not Training


Chapter X:
Get Out Of Your Good People's Way
You Might Be A Micromanager If…
Four Tradeoffs: Giving Up To Go Up
Nine Reasons Why You Shouldn't Train Your People
Five Causes & Cures For Corporate Cancer


Chapter XI:
Taking The Right People On The Journey
The Leadership Train
The Dirty Dozen Myths Of Management
How Idea-Deafness Can Cost Your Company A Fortune
Give Your Best To The Best & Less To The Rest


Chapter XII:
Would You Follow You As A Leader?
The Power Of Positive Reinforcement
The Truth About Turnover
What Your Team's Performance In Your Absence Says About You As A Leader


Chapter XIII:
Snuffing Out Complacency
Combating Personal Complacency
Combating Complacency In Others
Combating Complacency In Your Organization
Accepting Your Role In Combating Complacency


Chapter XIX:
A Mandate for Talent
Becoming A Connoisseur of Talent
The Truth About Making Others 'Talented'
Coaching With Consequences
Eliminate Welfare Subsidies For Underachievers


Chapter XV:
Get the Bosses Better, or Else
Train Your Managers Or Nothing Else Matters
Why Camaraderie and Harmony Are Not The Keys To Building A Winning Team
The High Risk, The Committed And The Trapped: It's The Manager Again!
Shut Up & Listen!


Chapter XVI:
You Stop Growing When The Price Gets Too High
What Aren't You Willing To Do To Make It Happen?
Feedback: A Coach's Greatest Responsibility
Leveraging The Power Of Momentum
What A Superachiever Really Is


Chapter XVII:
Leading the Charge of Change
Eleven Steps For Leading Change
Teaching Others To Fail Successfully
Make It Tough To Get On Board At Your Organization
Ditch Your Ego & Realize You Never 'Arrive.'

Find Items On Similar Subjects

If You Don't Make Waves, You'll Drown
: 10 Hard Charging Strategies for Leading in Politically Correct Times

Please Don't Just Do What I Tell You, Do What Needs to Be Done
: Every Employee's Guide to Making Work More Rewarding