The Persian Expedition (Anabasis)
Xenophon
George Cawkwell - Introduction and notes
Rex Warner - Translator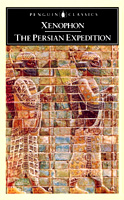 Format:
Paperback, 384pp.
ISBN:
9780140440072
Publisher:
Penguin Classics
Pub. Date:
Rev. edition June 30, 1950
Average Customer Review:

For Bulk Orders Call: 626-441-2024

Description and Reviews
From
The Publisher:
According to Peter Drucker, Xenophon set the standard for leadership books more than 2400 years ago.
'The only things of value which we have at present are our arms and our courage'
In
The Persian Expedition
, Xenophon, a young Athenian noble who sought his destiny abroad, provides an enthralling eyewitness account of the attempt by a Greek mercenary army – the Ten Thousand – to help Prince Cyrus overthrow his brother and take the Persian throne. When the Greeks were then betrayed by their Persian employers, they were forced to march home through hundreds of miles of difficult terrain – adrift in a hostile country and under constant attack from the unforgiving Persians and warlike tribes. In this outstanding description of endurance and individual bravery, Xenophon, one of those chosen to lead the retreating army, provides a vivid narrative of the campaign and its aftermath, and his account remains one of the best pictures we have of Greeks confronting a 'barbarian' world.
Rex Warner's distinguished translation captures the epic quality of the Greek original and George Cawkwell's introduction sets the story of the expedition in the context of its author's life and tumultuous times.

About the Author
Xenophon
was an Athenian country gentleman born about 430 BC. He may have helped to publish Thucydides' History, and certainly wrote his own Hellenica as a continuation of it. By his own (probably reliable) account he was a fine officer and outstanding leader, but his admiration for Sparta and devotion to Socrates, among other causes, led to his banishment. He was given an estate at Scillus and settled down to enjoy the life of a landed aristocrat, and it was during this period that he began to write histories, biographies, memoirs and specialist treatises. The defeat of Sparta in 371 forced him to move to Corinth where he probably lived for the rest of his life.
George Cawkwell
is a Fellow and Praelector in Ancient History of University College, Oxford. He has specialized in the history of the fourth century B.C.
Rex Warner
was a Professor of the University of Connecticut from 1964 until his retirement. He was born in 1905 and went to Wadham College, Oxford, where he gained a 'first' in Classical Moderations, and took a degree in English Literature. He taught in Egypt and England, and was Director of the British Institute, Athens, from 1945 to 1947. He has written poems, novels and critical essays, has worked on films and broadcasting, and has translated many works, including Xenophon's
History of My Time
and
The Persian Expedition
, Thucydides'
The Peloponnesian War
, and
Plutarch's Lives
(under the title Fall of the Roman Republic) and
Moral Essays
.

Find Items On Similar Subjects

Meditations
of Marcus Aurelius

Xenophon's Cyrus the Great
: The Arts of Leadership and War