The Definitive Drucker
Elizabeth Haas Edersheim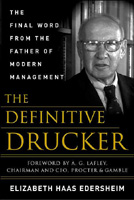 Format:
Paperback, 320pp.
ISBN:
9781260026252
Publisher:
McGraw-Hill
Pub. Date:
July 26, 2017
Average Customer Review:

For Bulk Orders Call: 626-441-2024

Description and Reviews
From
The Publisher:
With commentary from industry icons including Jack Welch, A. G. Lafley, John Bachmann, and Bill Donaldson
For Elizabeth Edersheim, a former senior consultant and partner for McKinsey & Co., a request directly from Peter Drucker to write about his life's work and his latest insights was a dream come true. For 16 months, Edersheim had extraordinary, unprecedented access to Drucker, talking with the father of modern management about business practices, economic changes, and contemporary trends-many of which he had predicted decades ago.
During this period, she also interviewed top executives at P&G, Medtronics, General Electric, and Toyota about Drucker's influence. These individuals in turn gave their expert points of view on his management wisdom. With thorough analysis and intriguing insight,
The Definitive Drucker
delivers the business biography of Drucker's most influential concepts, demonstrating how they are shaping every major organization and business trend of our time.
Includes Drucker's perspective on modern business in his own words as told to the author in a series of interviews conducted in the months prior to his death
Edersheim blends her own analysis with the experiences and thinking of current business leaders underscoring Drucker's vast influence, including A. G. Lafley, Jack Welch, and Michael Hammer
Delivers the most updated and comprehensive view of Drucker's contribution to the discipline of management over the past 75 years, updated for the modern business approach with new applications of his timeless principles
The industrial revolution was thunderous. You could hear the factories and trains; you could see cities transforming; you could smell the changes. Our current revolution is silent. We can't look out our windows and see the catalysts for the opportunities that will change the way we and our children do business, get educated and go about our daily lives. The silent revolution is built around human assets. It's all about knowledge, information, and collaborative connections and partnerships - the powerful new tools driving our future don't announce themselves with the clanking and sputtering of 19th century factories, tanneries and mills, or the sprawling parking lots of 20th century malls.
The impact of this silent revolution is far from quiet. The role of management at every level is amplified. So is the influence of the customer. And the need for innovation, too. And the value of collaboration, and connections between countries, between colleagues, even between competitors. The worker's ability to learn is far more important than ever, along with the growth of "smart" products that can diagnose their own problems and sometimes repair themselves.
In this revolution, managers are seeing the heightened risks from wrong decisions, no decisions, or poor execution of right decisions. We are navigating a new world that - far from being flat - is interconnected on every level. Distance often isn't important when services can arrive on-line instantly; time has a new meaning when we measure progress in milliseconds rather than hours and minutes.
Let us learn from one of the best management thinkers, Peter F. Drucker, as we unleash and harness our talents while plunging ourselves and our children into this silent revolution.
Elizabeth Edersheim is the perfect guide for this journey. For the last 16 months of Drucker's life, she had extraordinary, unprecedented access to him. She talked with the father of modern management about business practices, economic changes, and contemporary trends-many of which he had predicted decades ago.

Reviews
"The story of Peter Drucker is the story of management itself."
—The New York Times
"It is impossible to overstate Peter Drucker's contribution to the field of management. He invented the field. He defined the terms and laid out the axioms. All that subsequent writers, scholars, and thinkers have done is to footnote his work."
—Michael Hammer, president, Hammer and Company, and author of Reengineering the Corporation
"These stories are as close as you can get to the wisdom of Drucker and how his stunning intelligence can be applied to every modern organization."
—Warren Bennis, Distinguished Professor of Management, USC, author of On Becoming a Leader, and friend and colleague of Dr. Drucker

About the Author
Elizabeth Haas Edersheim
is a strategic consultant who works both with Fortune 500 companies and private equity investors. Prior to founding her own firm, New York Consulting Partners, Edersheim was one of the first female partners at McKinsey & Company. Her previous book, McKinsey's Marvin Bower, illustrates the business life and ideals of the founder of McKinsey, her mentor, who was also a close friend and peer of Dr. Drucker. Aside from her numerous publications, Dr. Haas Edersheim has provided expert testimony to the U. S. Congress on Industrial Networking and Industrial Manufacturing policy.

Table of Contents
Foreword by AG Lafley, Chairman, President, and CEO Proctor & Gamble
Introduction
1
Doing Business In The Lego World
"The assumptions on which most businesses are being run no longer fit reality."
2
The Customer: Joined at the Hip
"An enterprise's purpose begins on the outside with the customer."
3
Innovation and Abandonment
"The best way to predict the future is to create it."
4
Collaboration and Orchestration
"Often the most profitable way to organize is to disintegrate and to partner"
5
People and Knowledge
"Management is about human beings. Its task is to make people capable of joint performance, to make their strengths effective and their weaknesses irrelevant."
6
Decision Making: The Chassis That Holds the Whole Together
"A decision is a judgment - a choice between two courses of action neither of which is provably more nearly right than the other."
7
The Twenty-First-Century CEO
"CEOs have work of their own. It is work only CEOs can do, but also work which CEOs must do…Each knowledge worker must think and behave like a chief executive officer."
Acknowledgements
Endnotes

Find Items On Similar Subjects

Peter Drucker
: Shaping the Managerial Mind

The Daily Drucker
: 366 Days of Insight and Motivation for Getting the Right Things Done