Winning
: The Answers - Confronting 74 of the Toughest Questions in Business Today
Jack Welch and Suzy Welch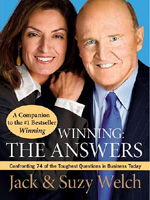 Format:
Paperback, 272pp.
ISBN:
9780061241499
Publisher:
Collins
Pub. Date:
October 31, 2006
Average Customer Review:

For Bulk Orders Call: 626-441-2024

Description and Reviews
From
The Publisher:
In
Winning
, their 2005 international bestseller, Jack and Suzy Welch created a rare document, both a philosophical treatise on fundamental business practices and a gritty how-to manual, all of it delivered with Jack's trademark candor and can-do optimism. It seemed as if "no other management book," in the words of legendary investor Warren E. Buffett, would "ever be needed."
Instead,
Winning
uncovered an insatiable thirst to talk about work. Since the book's publication, the Welches have received literally thousands of questions from college students and seasoned professionals alike, on subjects ranging from leadership and global competition to tough bosses and building teamwork. Indeed, questions about virtually every business and career challenge have poured in—some familiar, others surprising, many urgent and probing, and all of them powerfully real.
Winning: The Answers
takes on the most relevant of these questions, and in doing so, its candid, hard-hitting responses expand and extend the conversation Jack and Suzy Welch began with
Winning
. It is a dialogue that is sure to be both compelling and immensely useful to anyone and everyone engaged in the vital work of helping an organization grow and thrive.

About the Authors
Jack Welch
began his career with the General Electric Company in 1960, and in 1981 became the company's eighth Chairman and CEO. During his tenure, GE's market capitalization increased by $400 billion, making it the world's most valuable corporation. In 1999, Fortune named him the "manager of the century," and the Financial Times recently named him one of the three most admired business leaders in the world today. Upon retiring from GE in 2001, Mr. Welch published his internationally best-selling autobiography
Jack: Straight from the Gut
. He now teaches at MIT's Sloan School of Management and speaks to business leaders and students around the world.

Table of Contents
| | | |
| --- | --- | --- |
| | Introduction: "every day, there is a new question" | 1 |
| | | |
| 1 | Mission and values : so much hot air about something so real | 13 |
| 2 | Candor : the biggest dirty little secret in the business | 25 |
| 3 | Differentiation : cruel and Darwinian? : try fair and effective | 37 |
| 4 | Voice and dignity : every brain in the game | 53 |
| 5 | Leadership : it's not just about you | 61 |
| 6 | Hiring : what winners are made of | 81 |
| 7 | People management : you've got the right players, now what? | 97 |
| 8 | Parting ways : letting go is hard to do | 119 |
| 9 | Change : mountains do move | 133 |
| 10 | Crisis management : from oh-God-no to yes-we're-fine | 147 |
| 11 | Strategy : it's all in the sauce | 165 |
| 12 | Budgeting : reinventing the ritual | 189 |
| 13 | Organic growth : so you want to start something new | 205 |
| 14 | Mergers and acquisitions : deal heat and other deadly sins | 217 |
| 15 | Six Sigma : better than a trip to the dentist | 245 |
| 16 | The right job : find it and you'll never really work again | 255 |
| 17 | Getting promoted : sorry, no shortcuts | 277 |
| 18 | Hard spots : that damn boss | 299 |
| 19 | Work-life balance : everything you always wanted to know about having it all (but were afraid to hear) | 313 |
| 20 | Here, there, and everywhere : the questions that almost got away | 339 |

Find Items On Similar Subjects

Winning