Mind Set!
Reset Your Thinking and See the Future
John Naisbitt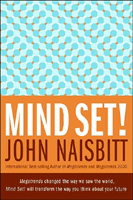 Format:
Paperback, 304pp.
ISBN:
9780061136894
Publisher:
HarperBusiness
Pub. Date:
December 23, 2008
Average Customer Review:

For Bulk Orders Call: 626-441-2024

Description and Reviews
From
The Publisher:
In his seminal works
Megatrends
and
Megatrends 2000
, John Naisbitt proved himself one of the most far-sighted and accurate observers of our fast-changing world.
Mind Set!
goes beyond that.
Mind Set!
discloses the secret of forecasting. John Naisbitt gives away the keys to the kingdom, opening the door to the insights that let him understand today's world and see the opportunities of tomorrow. He selects his most effective tools, 11 Mindsets, and applies them by guiding the reader through the five forces that will dominate the next decades of the twenty-first century.
Illustrated by stories about Galileo and Einstein to today's icons and rebels in business, science, and sports, Mind Set! opens your eyes to see beyond media headlines, political slogans, and personal opinions to select and judge what will form the pictures of the future.

About the Author
Megatrends
,
John Naisbitt
's first published book in 1982, was at the top of the New York Times bestseller list for more than two years and sold more than nine million copies. His experience reaches from executive positions in the corporate world to appointments by Kennedy and Johnson, and as an entrepreneur. He is former visiting fellow at Harvard University, a former visiting professor at Moscow State University, and currently a faculty member at the Nanjing University in China. Naisbitt serves as a Distinguished International Fellow, Institute of Strategic and International Studies (ISIS), in Malaysia. He has lived in three continents and travels the world as one of its most sought-after speakers. He holds fifteen honorary doctorates in the humanities, technology, and science.

Table of Contents
| | | |
| --- | --- | --- |
| | Prologue | xi |
| | Introduction | xiii |
| | | |
| | Part 1 - Mindsets | |
| 1 | While Many Things Change, Most Things Remain Constant | 3 |
| 2 | The Future Is Embedded In The Present | 11 |
| 3 | Focus On The Score Of The Game | 21 |
| 4 | Understand How Powerful It Is Not To Have To Be Right | 33 |
| 5 | See The Future As A Picture Puzzle | 41 |
| 6 | Don't Get So Far Ahead Of The Parade That They Don't Know You Are In It | 47 |
| 7 | Resistance To Change Falls For Benefits | 57 |
| 8 | Things That We Expect To Happen Always Happen More Slowly | 63 |
| 9 | You Don't Get Results By Solving Problems, But By Exploiting Opportunities | 77 |
| 10 | Don't Add Unless You Subtract | 93 |
| 11 | Don't Forget The Ecology Of Technology | 99 |
| | | |
| | Part 2 - Pictures Of The Future | |
| 1 | Culture - A Visual Culture Is Taking Over The World | 113 |
| 2 | Economics - From Nation-State To Economic Domains | 157 |
| 3 | China - Will The Dragon Devour Us Or Will It Be The Dragon We Ride? | 183 |
| 4 | Europe - Metamorphosis To History Theme Park | 213 |
| 5 | Our Evolutionary Era - No Next Big Thing | 233 |
| | | |
| | End Notes | 251 |
| | Index | 267 |

Customer Reviews
Write your own online review
.

Real-time Mind Map on John Naisbitt's Mind SET! book
September 16, 2007
Reviewer: Lim Choon Boo from Singapore
I was fortunate to be invited to the 26th SIM Annual Management Lecture on 23rd Aug 2007 at Raffles City Convention Centre, Singapore, at 3pm. The speaker was Dr John Naisbitt and the title of his talk was on "MINDSETS to See the Future".
Little did I know that he would actually be lecturing or rather, making a brilliant explanation and summary of the entire 11 Mindsets plus the 5 pictures of the future that he wrote about in his book on "MIND SET - Reset Your Thinking and See the Future".
From where I was sitting down, mind mapping his entire lecture in real-time, it seems to me that he considers Mindset No.5 (See the Future as a Picture Puzzle) as quite an important mindset to start off with. He subsequently went on to talk about Mindset No.1 (While Many Things Change, Most Things Remain Constant), followed by Mindset No.2 (The Future is Embedded in the Present), Mindset No.8 (Things that We Expect to Happen Always Happen More Slowly), Mindset No. 3 (Focus on the Score of the Game), Mindset No. 4 (Understand how powerful it is Not to Have to be Right), Mindset No.9 (You Don't Get Results by Solving Problems But By Exploiting Opportunities), Mindset No.6 (Don't Get So Far Ahead of the Parade That People Don't Know You're in It), Mindset No. 10 (Don't Add Unless You Subtract), Mindset No. 7 (Resistance to Change Falls If Benefits are Real) and finally, Mindset No.11(Don't forget the Ecology of Technology). The examples he gave as part of his elaborations of his mindsets were very appropriate, logical and extremely interesting.
John subsequently went on to paint the 5 pictures of the future that he wrote about in his book in the following order:
a) CULTURE: A Visual Cuture is Taking Over the World
b) ECONOMICS: From Nation-States to Economic Domains
c) CHINA: The Periphery Is the Centre
d) EUROPE: Mutually Assured Decline
e) OUR EVOLUTIONARY ERA: Reservoir of Innovation
I actually wanted to purchase a copy of the book before the lecture, however, there was none selling in the SIM Popular Book store that I went. So I attended the lecture, hardly knowing what to expect.
Thus, when I started reading the book, I was really delighted that the Mind Map that I drew in real-time and subsequently autographed personally by Dr John Naisbitt, presented me with a very valuable piece of summary of his book, "MIND SET!".
I really have to thank Dr John Naisbitt for the excellent presentation that he gave during the Annual Management Lecture. It is a brilliant lecture/summary that got me extremely interested to read the book even further. I was not disappointed with what I read. Thank you.

Find Items On Similar Subjects

The Black Swan
: The Impact of the Highly Improbable