Understanding Comics
: The Invisible Art
Scott McCloud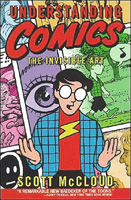 Format:
Paperback, 224pp.
ISBN:
9780060976255
Publisher:
Harper Paperbacks
Pub. Date:
April 27, 1994
Average Customer Review:

For Bulk Orders Call: 626-441-2024

Description and Reviews
From
The Publisher:
In this witty and illuminating softcover book, Scott McCloud, a twelve-time Harvey and Eisner Award nominee, uses a comic book to explain and analyze the medium of comic books themselves. This ultimate book about comics dissects the art form and shows how words, lines, colors, symbols, panels and pictures all come together to create a unique and one-of-a-kind storytelling experience. Looking back at the 3000 year history of the art form, McCloud shows how this unique genre is just as important and valid as film and prose in his own funny and profound manner.

Reviews
This is a rare and exciting work that ingeniously uses comics to examine the medium itself. McCloud (who wrote a comic-book series called Zot! ) conducts a genial, well-researched and funny tour of virtually every historical and perceptual aspect of comics, which he calls ``sequential art,'' that is, art that consists of sequences of words and pictures. Beginning in the 11th century with the Bayeux tapestry, he examines pre-Columbian picture languages and the printing press, presenting a quick survey of the historical development of early sequential pictures into the specialized visual language of comics. But it's McCloud's accessible and quite amusing discussion of realism, abstraction and visual perception that forms the heart of this survey. He dissects the vocabulary of the medium, cheerfully analyzing the psychological power of comics and their central role in our ultra-visual culture. McCloud attempts to place comics within the tradition of serious western art. His black-and-white drawings are a delight, ranging from simplified cartoons to parodies of classic comics and fine art, all the while manifesting every theory and comics trend discussed.
—Publishers Weekly
"A landmark dissection and intellectual consideration of comics as a valid medium."
—Will Eisner
"McCloud is the McLuhan of comics."
—James Gurney, Dinotopia

About the Author
Scott McCloud
is a four-time Harvey and Eisner winner.His comics have been translated into 14 languages.He's lectured on lectured on digital media at M.I.T.'s Media Lab and the Smithsonian Instution.