Creators
: From Chaucer and Durer to Picasso and Disney
Paul M. Johnson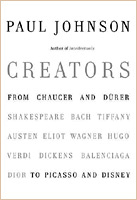 Format:
Paperback, 320pp.
ISBN:
9780060930462
Publisher:
HarperCollins
Pub. Date:
May 1, 2007
Average Customer Review:

For Bulk Orders Call: 626-441-2024

Description and Reviews
From
The Publisher:
Twenty years ago Paul Johnson published Intellectuals, biographical essays forming what Kingsley Amis described as "a valuable and entertaining Rogues' Gallery of Adventures of the Mind." It was a bestseller in many of the score of languages into which it was translated, but also criticized for describing clever people "so as to bring out their bad behavior" (Bernard Williams, New York Review of Books).
Paul Johnson now meets the charge with this companion volume of essays on outstanding and prolific creative spirits. He looks at writers from Chaucer and Shakespeare to Mark Twain and T. S. Eliot, artists like Dürer, and architects such as Pugin and Viollet-le-Duc. He explains the different ways in which Jane Austen, Madame de Stael, and George Eliot struggled to make their voices heard in the masculine hubbub. Victor Hugo allows him to ask, "Can imaginative genius coexist with low intelligence?" Johann Sebastian Bach gives him the opportunity to focus on the role of genetics in creativity and to explore the strange world of the organ loft. Louis Comfort Tiffany takes him into the technology of glass-making and the tragic vagaries of aesthetic fashion. Some essays make illuminating comparisons: of Turner with his contemporary the Japanese master Hokusai, and of the two great dress designers, Balenciaga and Dior. The final essay examines those two inventive geniuses, Picasso and Disney, and asks which had the greater influence on the visual arts of the twentieth century -- and beyond.
Paul Johnson believes that creation is a mysterious business that cannot be satisfactorily analyzed. But it can be illustrated in such a way as to bring out its salient characteristics. That is the purpose of this instructive and witty book.

About the Author
Paul Johnson
is a historian whose work ranges over the millennia and the whole gamut of human activities. His History of Christianity and History of the Jews describe the religious dimension, his Modern Times encapsulates the twentieth century, and his Art: A New History is the story of visual culture in all its forms, from the cave painters to today. He contributes a weekly essay to the Spectator, a monthly column to Forbes, practices the gentle art of watercolor painting, and lives in London and Somerset. He has four children and eight grandchildren.

Find Items On Similar Subjects

Book on Creativity

Heroes
: From Alexander the Great and Julius Caesar to Churchill and de Gaulle