Leading Views: Alain de Botton on Success and Snobs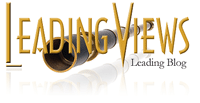 Alain de Botton
, author of
The Pleasures and Sorrows of Work
, shared his views at TED on success and snobs:
One of the interesting things about success is that we think we know what it means. A lot of the time our ideas about what it would mean to live successfully are not our own. They're sucked in from other people. And we also suck in messages from everything from the television to advertising to marketing, etcetera. These are hugely powerful forces that define what we want and how we view ourselves. What I want to argue for is not that we should give up on our ideas of success, but that we should make sure that they are our own.
We should focus in on our ideas and make sure that we own them
, that we're truly the authors of our own ambitions. Because it's bad enough not getting what you want, but it's even worse to have an idea of what it is you want and find out at the end of the journey that it isn't, in fact, what you wanted all along.
One of the reasons we might be suffering is that we are surrounded by snobs.
A snob is anybody who takes a small part of you and uses it to come to a complete vision of who you are.
That is snobbery. And the dominant form of snobbery that exists today is job snobbery — you encounter it within minutes at a party when you get asked that famous, iconic question of the 21st century: "What do you do?" The opposite of a snob is your mother.
* * *

Like us on
Facebook