5 Leadership Lessons: Five Lessons from Hank Moore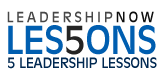 In
The Business Tree: Growth Strategies and Tactics for Surviving and Thriving
, corporate strategist and author Hank Moore shares some of the lessons he has learned over the years. Here are five:

You cannot go through life as a carbon copy of someone else. You must establish your own identity, which is a long, exacting process. As you establish a unique identity, others will criticize. Being different, you become a moving target.

People criticize you because of what you represent, not who you are. It is rarely personal against you. Your success may bring out insecurities within others. You might be what they cannot or are not willing to become.

If you cannot take the dirtiest job in any company and do it yourself, then you will never become "management."

It's not when you learn. It's that you learn.

Achievement is a continuum, but it must be benchmarked and enjoyed along the way.
Moore suggests that you keep your own diary of lessons learned—both reasons for your successes and your failures. What could you add to this list?
* * *