Caesar's Leadership: Stick to Your Guns

At the town of Placentia on the banks of the Po in northern Italy, Caesar faced a full-scale mutiny by his troops. Led by malcontents in the ninth legion, the soldiers demanded more pay, but the heart of their complaint was that there were no spoils in this war as there had been in Gaul. They would fight for months to defeat an army or conquer a town, then Caesar would forgive his enemies and march on. His soldiers craved gold, women, and slaves, not clemency for the vanquished.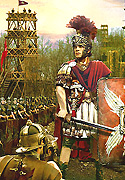 The whole episode at Placentia is a fascinating study in Caesar's psychology of leadership. The rebellious army had Caesar in a difficult position. He was waging a civil war against an empire with vast resources at its disposal. All Caesar had to counter Pompey and the Senate was his army. If he lost their backing, the war was over—and the soldiers knew it. They therefore expected concessions or they would pack their bags and go home. From the soldiers' point of view, it was a perfectly reasonable request. They were risking their lives and futures to follow Caesar. If he lost this war, they would receive no rewards. Any survivors, in fact, would be lucky to escape with their lives.
Most generals would have called the mutinous leaders together and worked out a compromise—but not Caesar. Instead, he ordered the whole army to assemble and then began to speak. He said he felt like a father faced by spoiled and unruly children. He had always seen to their needs before his own and had provided them with everything he had promised. Did they really want to see Italy laid waste like Gaul or Germany? Did they think they were better than their fellow Romans on the other side? They were proud soldiers fighting a war of principle, not a horde of ravaging barbarians sacking cities for plunder. They demanded their own way? They would not get it. Armies, he declared, cannot exist without discipline. He would therefore decimate the entire ninth legion, executing every tenth man among them as punishment and a warning to any who might question him in the future.
The whole army begged Caesar to reconsider and spare the ninth legion. They were wrong to defy him, they confessed, and earnestly beseeched him not to kill men who had served him bravely for many years. Caesar reluctantly agreed to show mercy on the condition that he was given the names of the ringleaders of the rebellion, twelve of whom he would choose by lot and execute. This they did, sparing the life of one innocent man and killing in his place the centurion who had vengefully accused him. Caesar had faced down thousands of his own men and won their respect and loyalty by not yielding an inch.
Adapted from
Julius Caesar
by Philip Freeman.