Sir Edmund Hillary Dies Today at 88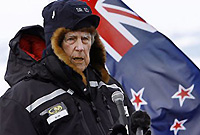 New Zealand Prime Minister Helen Clark announced today that Sir Edmund Hillary (b. July 20 1919), the New Zealand beekeeper-turned-mountaineer, had died this morning at the age of 88.
In 1953, Edmund Hillary, who with his Sherpa guide Tenzing Norgay, became the first known men to conquer Mount Everest, the world's tallest peak. Harry Gordon wrote in
The Australian
, "That Hillary was first to step onto the 8848m summit has been the subject of much subsequent controversy, but it is a superficial and somewhat pointless distinction since neither of them could have reached the top without each other's or the whole team's help. Indeed the expedition was a textbook example of teamwork where, through the sustained efforts of everyone, the two most suitable climbers made it to the summit of the mountain."
In an interview, Sir Hillary talked about leadership:
There are some people who are natural leaders, who have the ability to think quickly or choose the right decisions at the right moment. But I think there are an awful lot of us who have to learn how to be a leader, and in actual fact, I believe that most people, if they really want to, can become competent leaders.

I think I was the prime example of someone with relatively modest abilities, but I think I learned to become a reasonably competent leader. Even practice is quite a useful attribute in this respect. As you do more expeditions and more adventures, you get more experience and you know more clearly what to do in moments of emergency. But I certainly never regarded myself as a natural leader.
Sir Hillary devoted all of his life to helping the Sherpa people of Nepal through the
Himalayan Trust
he created in 1960. In a 1995 interview with James Clash, Hillary said, "I think the most worthwhile things I've done have not been on the mountains or in the Antarctic, but doing projects with my friends, the Sherpa people. The 27 schools we've now established, the hospitals—those are the things I would like to be remembered for."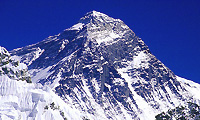 In November 2007 a institute was founded to recognize and foster outstanding international leadership in the name of Sir Edmund Hillary—the
Hillary Institute
. The Institute is creating a new international award—to be known as the Hillary Step—to be awarded to a person who displays great leadership in their chosen field. The Hillary Step will be bestowed every four years and will be worth $NZ 1 million. The Hillary Step is intended to recognize someone who has already displayed outstanding leadership, but who is still in mid-career so as to help further their work.