Peter Drucker on What a President Needs to be Effective
In the August 1960
Harper's Magazine
, Peter Drucker wrote, "What a President needs is an
active mind—a mind interested in other people and their ideas
; able to find the kernel of sense in a farrago of abstract theorizing; quick to see where imagination turns into riot, but also where logic turns into absurdity. Such a mind needs constant nourishment and stimulation through the ideas of others." He is suggesting that a president needs people with ideas; people that can fire the imagination with hope that new things can be done.
Drucker felt that the contemporary leader that made the most use of such people was General Douglas MacArthur as Supreme Commander in occupied Japan.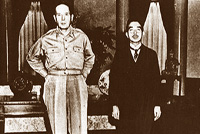 MacArthur wrote in his 1964 book
Reminiscences
, "I carefully abstained from any interferences by edict with the cultural traditions or the personal Japanese way of life. In frequent public statements I advised the Japanese people to seek a healthy blend between the best of theirs and the best of ours, and I was careful to tell them that no people or country was sufficient unto itself in these matters. I encouraged delegations of Japanese from every walk of life to travel in the West, and where it was possible, I paved the way for such visits.
I have always felt that one of the things that made the occupation a success was my insistence that we wanted to learn from the Japanese as well as teach them. It had a great deal to do with restoring a sense of dignity and purpose in their people, and as they regained self-respect and pride, they approached an exchange of ideas with avidity and goodwill.
This mutual respect became the foundation of the basic esteem our two peoples came to have for one another—and enabled the occupation to write a unique and warmly human chapter of world history."