Stepping Up to the Plate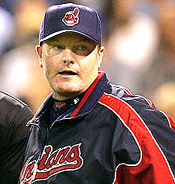 Cleveland Indians manager Eric Wedge, gave a nod to the importance of chemistry and leadership in the making of a great ball club. The teams disappointing first half he attributes in part to a lack of leadership in the clubhouse.
Anthony Castrovince at MLB.com
reports: "What's happened is we've gotten to the point [as an organization] where the younger players are the ones who have to step up [and assume leadership responsibilities]," Wedge said. "I don't think anybody's really taken hold of that. Last year we had guys like [Kevin] Millwood and [Scott] Elarton, veteran guys who were more vocal."
Wedge reflects, "It's tough for young people to get in front of their peers and put themselves out there like that." Disturbingly he adds,
"In the game in general, there's not too many leadership personalities out there. That's the generation we're in."
His observations are a reflection of a more general concern we find in society at large. Why don't more people feel the need to step up to the plate?